Canon imagePROGRAF iPF8400se 44-inch Production Color Printer
Product Number:
ipf8400se

In Stock
Canon imagePROGRAF iPF8400se 44-inch Production Color Printer
For small businesses, freelance designers and independent print shops, the Canon imagePROGRAF 8400SE is a powerful production printer in a modestly sized package. The IPF 8400SE incorporates red pigment into traditional 5-Color CMYK and matte black pigments. This printer utilizes LUCIA EX pigments which are ideal for providing vibrant prints with high durability. For printing posters with borderless printing, there is no better large format printer on the market.
Related Articles:
Contact the Canon imagePROGRAF dealers at WAB Paper Supply for pricing information to buy, rent or lease a new iPF8400SE, ask about our printer trade-in program or shop all Canon Plotters online at WAB Paper Supply Company.
Tools to Achieve Job Cost Savings from Draft to Final Output
Canon incorporates numerous features into the imagePROGRAF 8400 series to help you control costs and manage expenses throughout every project.
Fast Draft and Economy Printing modes allow for rapid proofing while significantly reducing ink consumption. Fast Draft Printing produces 1200x1200 dpi output and reduces ink use 10-20% compared to Standard Printing. Economy Printing reduces color density to cut ink use by 50% over Standard mode.
Optional large-capacity ink tanks and the sub-ink tank system improve workflow by reducing downtime for replacing pigment ink cartridges. The iPF8400SE is compatible with 700ml-capacity ink tanks, reducing low ink stoppages by more than half compared to the standard 330ml ink tanks.
The sub-ink tank system is designed for uninterrupted printing even while replacing ink cartridges. Reserve ink is held in a reservoir below the tank, making it possible to replace spent cartridges on the fly with no interruption to output.
Finally, Canon's integrated Accounting Manager software lets you accurately track ink and media usage for every job, both in terms of volume and cost. Ink usage estimates are accurate to within 15%. Job cost tracking is a function of user-input raw materials costs along with an optional variable cost.
Shop all iPF8400SE printable media at WAB Paper Supply.
Unprecedented Combination of Quality and Economy
The imagePROGRAF 8400SE delivers Canon's legendary printmaking quality in a package ideally suited for small printing and advertising firms, independent retailers and working freelance designers. The iPF8400SE gives you the tools to produce archival-quality prints and the insight to control your costs like no other production-grade printer on the market.
WAB Paper Supply carries a full line of Canon wide-format plotters, plus print supplies, media and replacement parts.
We are now accepting trade-ins for Canon IPF printers - Call us today 414-321-1422!
Canon IPF 8400se Plotter: Fastest and most economical poster printer on the market.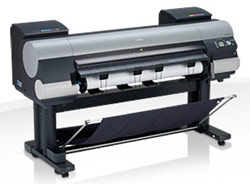 A versatile wide-format business printing machine, the 44" Canon imagePROGRAF iPF8400SE printer delivers speed and productivity to printing professionals that desire outstanding color quality from a super fast printer. The new 8400se also comes with edge to edge full bleed printing so users can print full bleed posters and graphics direct to substrate with NO TRIMMING!
The Canon ipf8400se printer's 6-color pigment ink system prints long-lasting images onto almost any rollable media from canvas, vinyl, and polypropylene banner to bond paper, coated bond, and high gloss photo paper. The Canon ipf 8300s graphics printer comes with built-in color calibration and allows users to print full bleed edge to edge prints cut directly off the roll on the plotter. The Canon 8400 series printer has proven to be an excellent output device for map printing, poster printing, signage printing, photo printing, and canvas printing.
The Canon ipf8400se plotter is ideal for those who need quality large format output and maximum business printing productivity. Built for the photography, proofing and production markets, the Canon iPF8300S plotter delivers high-quality imaging while increasing overall productivity. Equipped with an 8-Color LUCIA EX ink set, 160GB hard drive, built-in calibration and 44" borderless printing, the Canon iPF8300S plotter is an excellent solution for portraits, advertisements, retail signage and contract proofs.
The color gamut available from the Canon ipf8400se printer is huge! The printer plots smooth gradations has outstanding scratch resistance, and minimized color shifts. Canon created a workhorse production 8 color machine in the ipf 8300s.
Achieve maximum productivity with large 330ml or 700ml ink tanks and a unique sub-ink tank system for replacing ink on-the-fly without stopping the printer. And with a 160GB hard drive, handling multiple complex business printing jobs is incredibly simple in-network shared printer environments. Users can control costs per print with Fast / Economy printing modes that reduce plotter ink consumption.
Maintenance supplies for the Canon imagePROGRAF 8400se:
MC-16 maintenance cartridge, CT-06 cutter, PF-05 printhead.
Canon iPF8400se Printer Plotter Specs:

Printer Type

Number of Nozzles

Total: 15,360
C, M, Y, BK, MBK, R: 2,560 nozzles each

Nozzle Pitch

Nozzle Recovery System

Non-firing nozzle detection and compensation

Print Resolution (Up to)

Color: 2,400 x 1,200 dpi (Max)

OS Compatibility

Windows XP/Server 2003/Server 2008/Vista/7/8 (32/64bit)
Macintosh OSX 10.3.9-10.6 (32/64bit)

Standard Interfaces

USB 2.0 High-Speed
10/100/1000 Base-T/TX

Ink Compatibility

LUCIA EX ink (Pigment-based)

Ink Droplet Size

Ink Capacity

330ml per color (Optional 700ml)

Color Set

Cyan
Photo Cyan
Magenta
Photo Magenta
Yellow
Black
Matte Black
Gray

Buffer Ram

Media Width

Cut Sheet: 8" - 44"
Roll: 10" - 44"

Media Thickness

Front Loading Manual Feed: 0.07 - 0.8mm (2.8 - 31.4mil)
Roll: 0.07 - 0.8mm (2.8 - 31.4mil)

Maximum Roll Print Length

Maximum Media Roll Diameter

Borderless Printing Width

515 mm (JIS B2)
1, 030 mm (JIS B0)
594 mm (ISO A1)
841 mm (ISO A0)
10", 14", 17", 24", 36", 42", 44"

Paper Feed Method

Roll Feed: One Roll, front output
Front Loading Manual Feed: One sheet, front output

Languages

Noise Level Approx

Operation: 50 dB (A) or less
Acoustic Power: 6.8 Bels

Physical Dimensions

45" (H) x 74.5" (W) x 38.4" (D)

Weight

Approximately 316lbs with stand

Power Source

Power Consumption

Maximum: 190W or less
Standby: 6W or less
Power Off: 1W or less (Compliant with Executive Order)

Operating Environment

Temperature: 59°-86° F (15°-30° C)
Relative Humidity: 10-80% (No Condensation)

User-replaceable items

Print Head: (PF-05)
Maintenance Cartridge: (MC-08)
Durable Rotary Media Cutter: (CT-06)
Ink Tanks: (PFI-304, PFI-704)

Software Included

Canon Printer Driver
PosterArtist Lite
Accounting Manager
Print Plug-in for Adobe Photoshop
Print Plug-in for Digital Photo Professional
Print Plug-in for Microsoft Office
Digital Photo Front-Access
Printer Driver Extra Kit (Free Layout, imageRUNNER Linking Function)