Canon imagePROGRAF iPF780 Large Format Printer
Product Number:
8967B002AA
$2,595.00
Save $1,225.00
(Reg. $3,820.00)

In Stock

Canon imagePROGRAF iPF780 36" Large Format Printer
The Canon ImagePROGRAF 780 is a streamlined 36" high-productivity, high-quality and cloud-ready printer for high-speed and large volume print runs. The ImagePROGRAF 780 comes loaded with Canon's Accounting Manager software to track job costs and a Media Configuration tool to optimize the output of Canon-branded media. All of this functionality and output from a package that economizes physical office space.
Compare Canon imagePROGRAF iPF Printer Specs & Features
iPF680, iPF685, iPF780, iPF785, iPF780 MFP, iPF785 MFP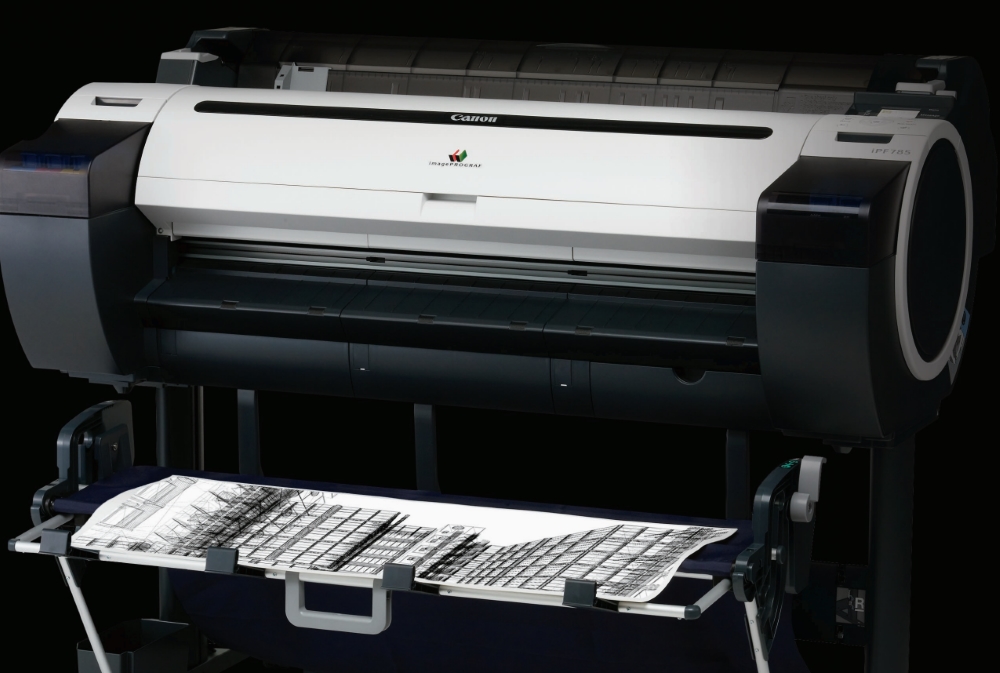 A 5-color, 36" large format printer for high-volume workgroups.
High-performance plotter for CAD, technical drawings and other uses requiring high-quality output.
Call 414-321-1422 or email support@wabpapersupply.com to discuss the Canon iPF line of high-speed plotter/printers. You simply won't find a better price on a new Canon iPF printer anywhere else!
We are now accepting trade-ins for Canon iPF printers. Call us today at 414-321-1422 to know more.
PRINTER'S NOTE: The Canon imagePROGRAF iPF780 MFP offers more features than the Canon IPF780. The MFP (multi-function printer) version can scan-to-copy and make files quickly and easily with a touch-screen monitor, making it a cinch to archive maps, proofs, and posters. View more information on the Canon ipf780 MFP.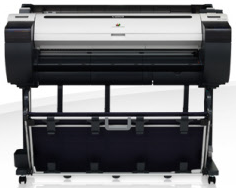 Canon imagePROGRAF iPF780 Cloud-Ready
Canon's downloadable cloud-based portal, Direct Print & Share 2.0, allows you to upload, download, print and share files from virtually any location via the internet. Just log on to your Google, Carbonite or Rackspace cloud storage account. There's no need to be chained to your desktop computer anymore, either. With Canon's new downloadable mobile printing app, imagePROGRAF Print Utility, you can print PDFs from your iPad© or other mobile devices via an internet connection. Canon also designed shortcut print feature into Direct Print & Share that lets you print by just dragging and dropping files onto your designated shortcuts. You can also batch print multiple pdf, tif, or jpg files without having to open them in their original application.
Canon iPF780 Ink
The new iPF780 includes Canon's 130ml and offers the option of a large capacity 300ml ink tank. The 300ml size not only lets you print much longer between changes but also reduces your large format printing costs. In fact, large format plotting customers can save as much as 30% on ink usage costs by upgrading to a new Canon 780 plotter. Here's another reason to make the switch: Ink tanks can be swapped out on the fly—a huge plus when you've got a long print run and don't want to jeopardize print quality by having to stop a job mid-print.
Canon imagePROGRAF iPF780 Reformulated Magenta Ink
Canon has reformulated its magenta ink and the results are quite impressive. Not only are reds more vivid, but so are yellows. CAD drawing and architectural renderings print with noticeably greater vibrancy. Additionally, Canon's 5-color dye-and-pigment ink system yields exceptionally sharp, thin lines with a minimum line width of .02mm and accuracy to +/- .1%. The high-resolution printouts of the iPF780 are attributable to its 15,360 inkjet nozzles precisely spraying out droplets a mere 4 picoliters in size—so small as to not even be visible by the bare eye.
Canon iPF780 Plotter Accessories & Printing Supplies
For Canon inks, plotter paper rolls, printer heads and any other printing supply you may need, trust WAB Paper Supply to have it. Our expertise in digital plotters, copiers, scanners and digital reprographic systems is known throughout the industry and our lowest possible prices make us your best source for the hardware and supplies you need to run your business.
Canon iPF780 Plotter Accessories & Printing Supplies
The Canon IPF680 and IPF780 series offer 2 interchangeable ink cartridge sizes - 130ml and 300ml. The Canon 300ml plotter ink tanks offer great savings for contractors, architects, and engineers looking so save money on plotting costs.
130ML inks: (PFI107BK, PFI107MBK, PFI107C, PFI107Y, PFI107M)
300ML inks: (PFI207BK, PFI207MBK, PFI207C, PFI207Y, PFI207M)
The user-changeable cartridge (MC 10) is a wonderful addition to the large format market. Being able to quickly and easily change cartridges equates to fewer service calls—always a plus for any busy work environment. The Canon imagePROGRAPG IPF plotter series uses their outstanding (PF-04) print head. Engineered for speed and high-quality image production, this print head puts down ink in 4 picoliter-sized droplets with astounding speed and accuracy. The PF-04's high-density nozzle is shaped to minimize mist, reduce satellite ink, and deliver exceptionally clean lines and text. With a total of 15,360 nozzles, the sharpness and detail of output is remarkable. In fact, this printer head delivers consistently accurate 2400 x 1200 dpi output with fine line accuracy to ±0.10% and as thin as 0.02mm.
For Canon printers/plotters, banner and sign printers, scanners, wide-format mfps, plotter paper rolls, or any other printing supply needs, WAB Paper Supply stands above all online stores. Our expertise in digital plotters, copiers, scanners and digital reprographic systems is well-known in the industry, and our lowest possible prices make us your best source for the hardware and supplies you need to run your business.
View the Canon Plotter Printers Guide
Shop Canon Plotters online at WAB Paper Supply for all your business printing solutions.
Canon imagePROGRAF iPF780 Specs:

Printer Type

5-Color, 36-inch Printer Plotter

Number of Nozzles

Total: 15,360
MBK: 5,120 nozzles
C, M, Y, BK: 2,560 nozzles each

Nozzle Pitch

1,200 dpi
Non-firing nozzle detection and compensation

Print Resolution (Up to)

OS Compatibility

Windows XP/Vista/7/8
Macintosh OSX 10.6.8-10.9X

Standard Interfaces

USB 2.0 High-Speed
10/100/1000 Base-T/TX

Ink Droplet Size

Ink Capacity

Ink Droplet Size

Color Set

Dye: Cyan, Magenta, Yellow, Black
Pigment: Matte Black

Buffer Ram

Media Width

Cut Sheet: 8"-36" (203.2mm - 914mm)
Roll Feed: 10"-36" (254mm - 914mm)

Media Thickness

Maximum Roll Print Length

Roll Feed: 59' (18 meters)
Cut Sheet: 63" (1.6 meters)

Maximum Media Roll Diameter

Borderless Printing Width

10", 14", 17", 24", B2 (20.28"/515 mm), A1 (23.38"/594mm), A0 (33.11"841mm), 36"

Paper Feed Method

Roll Feed: One Roll, Top-loading, Front output
Cut Sheet: One sheet, Top loading, Front output

Languages

Language: GARO (Canon Proprietary), HP-GL/2, HP-RTL

Noise Level Approx

Operation: 50 dB (A) or less
Standby: 35 dB (A) or less
Acoustic Power: 6.6 Bels

Physical Dimensions

42" (H) x 51" (W) x 35" (D) (When basket is open)

42" (H) x 51" (W) x 43" (D) (When basket is extended for flatbed stacking)
Box Dimensions/ Weight: 31" (H) x 56" (W) x 46" (D) / Approximately 249 lbs

Weight

Approximately 150 lbs. with stand

Power Source

Power Consumption

Maximum: 140W or less
Standby: 5W or less
Power Off: .5W or less (Compliant with Executive Order)

Operating Environment

Temperature: 59°-86° F (15°-30° C)
Relative Humidity: 10-80% (No Condensation)

User-replaceable items

Print Head: (PF-04)
Maintenance Cartridge: (MC-10)
Ink Tanks: PFI-107 (130ml: BK, C, Y, M, MBK), PFI-207 (300ml: BK, C, Y, M, MBK)

Software Included

Canon Printer Driver

Printer Driver Extra Kit (Free Layout, Color imageRUNNER Enlargement Copy, Advanced Preview)

Direct Print & Share

imagePROGRAF Print Utility

2

PosterArtist Lite (PC Only)

Print Plug-in for Microsoft® Word/Excel/PowerPoint (PC only)

Status Monitor, Media Configuration Tool

Optimized Module for AutoCAD
How-To: Canon Driver Download
How-To: Canon Driver Installation & Config