Canon imagePROGRAF iPF785 Large Format Printer
Product Number:
8966B002AA
$2,974.00
Save $1,301.00
(Reg. $4,275.00)

In Stock

Canon imagePROGRAF iPF785 36-inch Large Format Plotter Printer
The Canon imagePROGRAF 785 36-inch large format printer is a workhorse that will put up with whatever you throw at it. This printer is built for high-volume runs at a capacity of 5000 square feet per month. In addition to its ability to print high-volumes in a short amount of time, the iPF785 boasts a variety of features like an enhanced drawing stacker, password protected interface lock, and a 250 GB hard drive. All of these features mean the Canon iPF785 will be the hardest worker in your office.
Call 414-321-1422 or email support@wabpapersupply.com to discuss the Canon iPF line of high-speed plotter/printers. You simply won't find a better price on a new Canon iPF printer anywhere else!
We are now accepting trade-ins for Canon iPF printers - Call us today at 414-321-1422 to learn more!
PRINTER'S NOTE: The Canon imagePROGRAF 785 MFP offers more features than the Canon IPF785. The MFP (multifunction printer) version can scan-to-copy and make files quickly and easily with a touch-screen monitor, making it a cinch to archive maps, proofs, and posters. View more information on the Canon imagePROGRAF iPF785 MFP multifunction printer.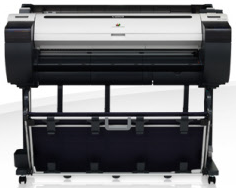 The Canon imagePROGRAF785 36-inch large format printer builds on Canon's award-winning line of 5-color printers. This is a world-class, high-performance plotter built for high-volume users. We recommend the iPF785 CAD printer's capacity to 5000 ft² per month. The iPF785 features an enhanced drawing stacker, a password protected interface lock and a 250GB hard drive with 32GB dedicated to printer memory. These new features add to the already impressive capabilities of this printer and make it an ideal solution for the print speed and precision requirements of the technical document market.
The Canon imagePROGRAF IPF 785 print speed (d-size sheets in 21 seconds), outstanding color and line accuracy, along with its new integrated print stacker are all features that put this workhorse of a plotter in a class of its own. We've been particularly impressed with the "edge to edge" full-bleed printing feature on the IPF 785. In fact, the entire Canon line of printers allows you to print full-bleed color prints right off the machine with no trimming needed.
Canon iPF785 vs Competition
The print stacker basket on the imagePROGRAF iPF785 is a great feature, making it possible to neatly stack up to 100 24x36 inch plain paper prints or 30x42 inch plain paper prints. The stacking option can be enabled or disabled depending on user preference. The Canon iPF 785 can hold paper and media on a 2-inch core or a 3-inch core. Users can print on 20lb bond paper roll up to a 36" x 500', meaning you can print 250 D-size sheets on a single roll and the integrated stacking solution makes it possible to stack 100+ "d-size" prints without worrying about a print pile up in the drawing basket!
Compare this to the competition: their plotters can only handle a 2-inch core media, which means the last prints off the roll always come out super "curly" and won't stack reliably. The print stacker and ability to run 500' rolls on the IPF785 is a game changer in the marketplace. Finally, you can buy a fast, production rated plotter that stacks prints at an amazingly affordable price.
Another big CAD and GIS market advantage to the entire Canon iPF printer line is the ability to load 3-inch core media. Drawings printed from a 3-inch core media are considerably more resistant to print "curling" after the print is cut by the plotter. With the iPF785, users can stack D and E size drawings and prints much better than with any competitor inkjet plotter currently available.
The Canon iPF 785 is an ideal plotter for architects. The iPF785 is 36-inch wide to accommodate architectural E-size drawings, has the embedded hard drive for sending large design files directly from design software and full plan sets, and the offers the perfect blend of affordability, features, and heavy-duty production output.
We are pleased to report that Canon Support has been outstanding for us on the entire line of imagePROGRAF IPF printers. In the event a problem ever arises with a product, WAB Paper Supply will stand behind you and handle all the legwork and paperwork involved in contacting Canon for support or warranty service, if necessary. Because we are also a brick and mortar shop with trained technicians on staff and printers in our showroom, we offer the premier Canon imagePROGRAF iPF support in the United States and Canada.
imagePROGRAF iPF785 Large Format Plotter Uses
Designed for architectural printing, engineering plotting, GIS printing, and other high-end technical document production, the Canon 36" imagePROGRAF iPF785 large format printer is a robust, high-performance print solution designed for medium to large workgroups and offices. With phenomenal line accuracy, a 250GB hard drive, and onboard support for HP-GL/2 and HP-RTL files, the Canon iPF785 is an ideal wide-format printer for any professional with a need for printing complex full-color renderings, CAD drawings, GIS maps, high-volume blueprints, high-volume plans, and other large-format graphics quickly, effortlessly, and with excellent detail.
An environmentally-conscious plotter design with fully front-accessible operations allows for outstanding ease-of-use and flush to wall installation in virtually any environment. From loading paper to navigating through the intuitive control panel, the Canon ImagePROGRAPH iPF785 simplifies large format printing. And with accounting functionality, a sub-ink tank system, and Gigabit Ethernet support, this printer achieves exceptionally high measures of productivity. Combined with its impressive speed, precision, and high-quality output, the Canon imagePROGRAF iPF785 CAD printer is the premier color plotting solution for high-end technical documents users.
Canon iPF785 Plotter Accessories & Printing Supplies
The Canon IPF680 and IPF780 series offer 2 interchangeable ink cartridge sizes - 130ml and 300ml. The Canon 300ml plotter ink tanks offer great savings for contractors, architects, and engineers looking so save money on plotting costs.
130ML inks: (PFI107BK - black, PFI107MBK - matte black, PFI107C - cyan, PFI107Y - yellow, PFI107M - magenta)
300ML inks: (PFI207BK - black, PFI207MBK - matte black, PFI207C - cyan, PFI207Y - yellow, PFI207M - magenta)
The user-changeable cartridge (MC 10) is a wonderful addition to the large format market. Being able to quickly and easily change cartridges equates to fewer service calls—always a plus for any busy work environment. The Canon imagePROGRAPG IPF plotter series use their outstanding (PF-04) print head. Engineered for speed and high-quality image production, this print head puts down ink in 4 picoliter-sized droplets with astounding speed and accuracy. The PF-04's high-density nozzle is shaped to minimize mist, reduce satellite ink, and deliver exceptionally clean lines and text. With a total of 15,360 nozzles, the sharpness and detail of output are remarkable. In fact, this printer head delivers consistently accurate 2400 x 1200 dpi output with fine line accuracy to ±0.10% and as thin as 0.02mm.
For Canon printers/plotters, banner and sign printers, scanners, wide-format multifunction printers, plotter paper rolls, or any other printing supply needs, WAB Paper Supply stands above all online stores. Our expertise in digital plotters, copiers, scanners and digital reprographic systems is well-known in the industry, and our lowest possible prices make us your best source for the hardware and supplies you need to run your business.
View the Canon Plotter Printers Guide
Shop Canon Plotters online at WAB Paper Supply for all your business printing solutions.
Compare Canon imagePROGRAF iPF Printer Specs & Features
iPF670, iPF680, iPF780, iPF785, iPF780 MFP, iPF785 MFP
Canon imagePROGRAF iPF785 Large Format Printer Specs

Printer Type

5-Color, 36-inch Printer Plotter

Number of Nozzles

Total: 15,360
MBK: 5,120 nozzles
C, M, Y, BK: 2,560 nozzles each

Nozzle Pitch

1,200 dpi
Non-firing nozzle detection and compensation

Print Resolution (Up to)

OS Compatibility

Windows XP/Server 2003/Server 2008/Vista/7 (32/64bit)
Macintosh OSX 10.3.9-10.6 (32 bit), OS X 10.5-10.6 (64 bit)

Standard Interfaces

USB 2.0 High-Speed
10/100/1000 Base-T/TX

Ink Droplet Size

Ink Capacity

Ink Droplet Size

Color Set

Dye: Cyan, Magenta, Yellow, Black
Pigment: Matte Black (two channels)

Buffer Ram

8 GB dedicated file processing memory, 256 MB RAM

Hard Drive

Media Width

Cut Sheet: 8" - 36" (203.2mm - 914mm)
Roll Feed: 10" - 36" (254mm - 914mm)

Media Thickness

Maximum Roll Print Length

Roll Feed: 59' (18 meters)
Cut Sheet: 63" (1.6 meters)

Maximum Media Roll Diameter

Borderless Printing Width

10", 14", 17", 24" B2 (20.28"/515 mm), A1 (23.38"/594mm), A0 (33.11"841mm), 36"

Paper Feed Method

Roll Feed: One Roll, Top-loading, Front output
Cut Sheet: One sheet, Top loading, Front output

Languages

Language: GARO (Canon Proprietary), HP-GL/2, HP-RTL

Noise Level Approx

Operation: 50 dB (A) or less
Standby: 35 dB (A) or less
Acoustic Power: 6.6 Bels

Physical Dimensions

42" (H) x 51" (W) x 35" (D) (When basket is open)
42" (H) x 51" (W) x 43" (D) (When basket is extended for flatbed stacking)
Box Dimensions:

31" (H) x 56" (W) x 46" (D)

Weight

Approximately 150 lbs. with stand

Power Source

Power Consumption

Maximum: 140W or less
Standby: 5W or less
Power Off: 1W or less (Compliant with Executive Order)

Operating Environment

Temperature: 59°-86° F (15°-30° C)
Relative Humidity: 10-80% (No Condensation)

User-replaceable items

Print Head: PF-04
Maintenance Cartridge: MC-10
Ink Tanks: (PFI-107: C, Y, BK, MBK, M), (PFI-207:

C, Y, BK, MBK, M

)

Software Included

Canon Printer Driver
Printer Driver Extra Kit (Free Layout, Color imageRUNNER Enlargement Copy, Advanced Preview)
Direct Print & Share
imagePROGRAF Print Utility 2
PosterArtist Lite (PC Only)
Print Plug-in for Microsoft® Word/Excel/PowerPoint (PC only)
Status Monitor
Media Configuration Tool
Optimized Module for AutoCAD
How-To: Canon Driver Download
How-To: Canon Driver Installation & Config
Canon ipf785 36-inch Printer Deal