Canon IPF780 MFP M40 36" Multi-Function Plotter/Printer/Copier/Scanner
Product Number:
ipf780mfp

In Stock
Canon IPF780 MFP M40 36" Multi-Function Plotter/Printer/Copier/Scanner
Call 800-321-1974 or email support@wabpapersupply.com to discuss the Canon ipf 780 MFP.
We are now accepting trade-ins for Canon IPF printers.
PRINTERS NOTE: While the Canon IPF 780 multi-function printer offers enhanced functionality like scanning, scan-to-copy and easy file-making on a touchscreen monitor, many people opt for the cost-effective basic ipf 780. View more information on the Canon imagePROGRAF 780.
Free shipping!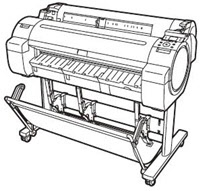 Canon's new ImagePROGRAF 780 MFP M40 replaces the iPF 760 MFP M40. Designed as a complete Scan-to-Print, File and Share solution, the system is comprised of an iPF 780 large format printer, M40 large format Colortrac scanner, MFP stand and basket, computer, SmartWorks MFP software and a large touch-screen monitor. If your work involves the printing, copying, archiving and distributing of renderings, site plans, maps, drawings, designs and layouts, posters or anything else demanding high-quality output, the iPF 780 MFP is an ideal solution.
The M40 scanner adds to the already formidable capabilities of the iPF 780 printer. With the ability to scan documents as thick as 2mm and as long as 315" in length as a PDF or JPEG file and up to 590" long as a TIFF file, its capabilities go well beyond the typical technical document. You don't need to be a rocket scientist to use it, either. Canon's SmartWorks MFP software makes the entire Scan-to-Print, File and Share process easy for even non-technical users.

New Color Canon imagePROGRAF IPF685 - IPF680 - IPF780 - IPF785
The Power of the Cloud
Available as a free download, Canon's Direct Print & Share 2.0 software harnesses the power of cloud-based storage to enable viewing, sharing and printing of files from any location. The software is compatible with any WebDAV compliant cloud server (Google, Rackspace, Carbonite). With Direct Print & Share, PDFs, TIFs, JPEGs and HP-GL/2 files can be accessed and batch printed remotely via an internet connection. The program also includes a shortcut for printing—making it as easy as dragging and dropping files into folders. Additionally, Canon's imagePROGRAF Print Utility app for iPad (available as a free download) enables remote printing from your iPad.
Like the iPF 780, the 780 MFP comes equipped with the same excellent, user-friendly software applications. Canon's Accounting Manager software constantly tracks job costs and provides up-to-the-minute reports on the cost of every job. Also included is a Print Plug-in for Microsoft Office that lets you print Word, Excel or Powerpoint documents in large format. And to optimize your printer when using Canon media, there is a Media Configuration Tool to help get the best possible results.
Reformulated Magenta Ink from Canon
Canon has reformulated its magenta ink and the results are truly impressive. Reds and yellows are now more vivid and accurate than ever before. You will see noticeably greater vibrancy in your CAD drawings, architectural renderings, posters or whatever you print. In addition, Canon's advanced 5-color dye-and-pigment ink system creates exceptionally sharp, thin lines with a minimum line width of .02mm and accuracy to +/- .1%. With 15,360 inkjet nozzles precisely spraying out droplets a just 4 picoliters in size—so small you cannot even see them—you can be assured of exceptionally high-resolution printouts.
Cut Your Print Costs by 30%
The new iPF 780 includes Canon's 130ml ink tank and offers the option of a large capacity 300ml ink tank. Not only does the 300ml size let you print much longer between changes, it also reduces your large format ink costs by as much as 30%.
Another good reason upgrade to the imagePROGRAF 780 plotter: Ink tanks can be swapped out on the fly. This is a great feature for those times when you have a long print run and don't want to risk the quality of your output by having to stop a job mid-print to replenish ink.
Canon IPF685 Plotter Accessories & Printing Supplies
For Canon inks, plotter paper rolls, printer heads and any other printing supplies you may need, check with WAB Paper Supply first. Our extensive experience in digital plotters, reprographic systems, copiers, and scanners is well known throughout the printing supplies industry and our low prices make us your best source for the equipment and supplies you need to run your business.
Canon iPF780 MFP Ink
Canon IPF680 / IPF685 / IPF780 / IPF785 Plotter Accessories & Printing Supplies
The Canon IPF680 and IPF780 series offer 2 interchangeable ink cartridge sizes - 130ml and 300ml. The Canon 300ml plotter ink tanks offer great savings for contractors, architects, and engineers looking to save money on plotting costs.
130ML inks: (PFI107BK - black, PFI107MBK - matte black, PFI107C - cyan, PFI107Y - yellow, PFI107M - magenta)
300ML inks: (PFI207BK - black, PFI207MBK - matte black, PFI207C - cyan, PFI207Y - yellow, PFI207M - magenta)
Shop for Canon IPF780 MFP Ink and other printer accessories from WAB Paper Supply.
Please see the Product PDF's on this page for the Canon ImagePROGRAF 780mfp, or contact us for more information!
For imagePROGRAF Printer Driver. For printing from PostScript applications such as Adobe Illustrator or QuarkXpress, please use a PostScript compatible RIP package. For a list of Canon recommended RIP packages, please consult with Canon Alliance and Industry Market list of RIP vendors.
The maximum printable length varies depending on the application, OS, and RIP used.
For AutoCAD or AutoCAD LT 2005, 2006, 2007, 2008, 2009, 2010, 2011.
* Maximum scan length varies depending on scan resolution and hard drive space.

Shop Canon Plotters for a variety of business printing solutions from WAB Paper Supply.