Canon imagePROGRAF iPF785 MFP M40 Multifunction All-In-One Printer
Product Number:
8966B005AA
$5,620.00
Save $3,214.80
(Reg. $8,834.80)

In Stock
Canon imagePROGRAF iPF785 M40 36-inch Multifunction Printer MFP
For contractors, designers, and estimators, the high volume capabilities of the imagePROGRAF iPF785 MFP will prove indispensable for blueprints and plans. The imagePROGRAF iFP785 is a high-speed printer and scanner ideal for technical printing. Whether in color or monochrome, the Canon iPF785 MFP will provide consistent speed and quality prints.
Compare Canon imagePROGRAF iPF Printer Specs & Features
iPF670, iPF680, iPF780, iPF785, iPF780 MFP, iPF785 MFP
Canon imagePROGRAF iPF785 MFP 36-inch Multifunction Plotter/Printer/Copier/Scanner #8966B005AA
Call 414-321-1422 or email support@wabpapersupply.com to discuss the Canon ipf 785 MFP M40.
We are now accepting trade-ins for Canon IPF printers - Call us today 414-321-1422!
PRINTERS NOTE: While the Canon IPF 785 multi-function printer offers enhanced functionality like scanning, scan-to-copy and easy file-making on a touchscreen monitor, many people opt for the cost-effective basic ipf 785. View more information on the Canon imagePROGRAF 785.
Free shipping!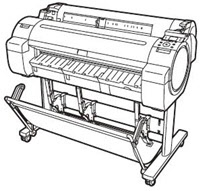 The NEW Canon large format M40 scanner is a 40" scanner is a world-class technical imaging scanner that represents a huge upgrade in speed over the HP Designjet competition. The M40 scanner runs usb3.0 and scans at a breathtaking speed: black and white @ 13 inches per second and color @ 3 inches per second. The Canon MFP M40 series of machines come with an open architecture Acer PC with Windows 7 Pro and a wide 22" multi-touch monitor for amazing ease of use.

Canon iPF785 MFP Ink
Canon iPF785 MFP Multifunction Plotter Accessories & Printing Supplies
The Canon IPF680 and IPF785 series offer 2 interchangeable ink cartridge sizes - 130ml and 300ml. The Canon 300ml plotter ink tanks offer great savings for contractors, architects, and engineers looking to save money on plotting costs.
130ML inks: (PFI107BK - black, PFI107MBK - matte black, PFI107C - cyan, PFI107Y - yellow, PFI107M - magenta)
300ML inks: (PFI207BK - black, PFI207MBK - matte black, PFI207C - cyan, PFI207Y - yellow, PFI207M - magenta)
Shop for Canon IPF785 MFP Ink and other printer accessories from WAB Paper Supply.
Please see the Product PDFs on this page for the Canon ImagePROGRAF 785mfp, or contact us for more information!
For imagePROGRAF Printer Driver. For printing from PostScript applications such as Adobe Illustrator or QuarkXpress, please use a PostScript compatible RIP package. For a list of Canon-recommended RIP packages, please consult with Canon Alliance and Industry Market list of RIP vendors.
The maximum printable length varies depending on the application, OS, and RIP used.
For AutoCAD or AutoCAD LT 2005, 2006, 2007, 2008, 2009, 2010, 2011.
* Maximum scan length varies depending on scan resolution and hard drive space.

Shop Canon Plotters for a variety of business printing solutions from WAB Paper Supply.
Canon imagePROGRAF iPF785 MFP M40 Multifunction Printer Overview:
The ease of use and changeable parts make this single footprint Canon imagePROGRAF iPF785 MFP Printer a solid solution for business printers wanting to scan and print in color. The Canon IPF 785 MFP printer also has no warm-up time. This Canon printer is ready when you are to print or scan!
The Canon imagePROGRAPH 785 MFP printer also has a newly integrated stacker reliably stacking up to 20 d-size drawings. Business printers can send a set of prints without worrying about a big pile of prints in the basket!
The Canon iPF785 MFP printer provides a fast and effective system for copying, archiving and distributing maps, drawings, renderings, site and facilities management plans, design and layout proofs, posters and more. SmartWorks MFP gives you the production tools to fully utilize the expansive range of features on the Canon IPF785 printer. This interface makes it easy to scan, copy, and manage large technical documents. The software has been updated and expanded to allow for maximum user control and offers new editing options. The Canon IPF785 also includes the Direct Print & Share feature. This allows for cloud-based sharing of documents worldwide.
The Canon imagePROGRAF iPF785 MFP printer's true 600dpi optical resolution and CIS scanning technology combine for incredible line definition and accuracy. This Canon printer has room for documents up to 41" wide (40" image width) by any length* making the Canon iPF750 MFP printer a versatile imaging solution. With dynamic preview and a large, simple-to-use touch-screen interface, one-click business scanning/copying has never been easier. The Canon imagePROGRAF iPF785 MFP printer comes standard with the ability to scan to PDF, JPEG, and TIFF file formats.
Canon's IPF785 imagePROGRAF printer is designed to work seamlessly with a variety of operating systems including Windows and Mac-based platforms. The drivers offered with the printer allow for maximum control and features while being easy to use and intuitive. The Real Preview feature allows for real-time preview of print jobs and enables the user to modify the settings even after the print process has been initiated. Further features include borderless printing, economy printing mode, page nesting feature, and an optimized module for AutoCAD.
This Canon plotter printer was designed environmentally conscious with full front-accessible operation allowing for outstanding ease-of-use and flush wall installation in any environment. From loading paper to navigating through an intuitive control panel, the Canon iPF785 MFP printer simplifies your business printing workflow. With a sub-ink tank system and Gigabit Ethernet support, the Canon iPF785 MFP printer provides the versatility and flexibility needed for use in a wide variety of industries and applications.
Canon imagePROGRAF iPF785 MFP M40 Multifunction Printer Specs

Printer Type

Number of Nozzles

Total: 15,360
MBK: 5,120 nozzles
C, M, Y, BK: 2,560 nozzles each

Nozzle Pitch

1,200 dpi
Non-firing nozzle detection and compensation

Print Resolution (Up to)

OS Compatibility

Windows® (XP/Vista/7/8)
Macintosh® (OSX 10.6.8-10.9X)

Standard Interfaces

USB 2.0 High-Speed
10/100/1000 Base-T/TX

Ink Droplet Size

Ink Capacity

Ink Droplet Size

Color Set

Dye: Cyan, Magenta, Yellow, Black
Pigment: Matte Black

Buffer Ram

Hard Drive

Media Width

Cut Sheet: 8"- 36" (203.2mm - 914mm)
Roll Feed: 10" - 36" (254mm - 914mm)

Media Thickness

Maximum Roll Print Length

Roll Feed: 59' (18 meters)
Cut Sheet: 63" (1.6 meters)

Maximum Media Roll Diameter

Borderless Printing Width

10, B4, A3, 14, A2, 17, B2 (20.28"/515 mm), A1 (23.38"/594mm), 24, A0 (33.11"/841mm), B1, 36"

Paper Feed Method

Roll Feed: One Roll, Top-loading, Front output Cut Sheet: One sheet, Top loading, Front output

Languages

Noise Level Approx

Operation: 48 dB (A) or less
Standby: 35 dB (A) or less
Acoustic Power: Approx. 6.5 Bels

Physical Dimensions

42 (H) x 51 (W) x 35 (D) (When basket is open)
42 (H) x 51 (W) x 43 (D) (When basket is extended for flatbed stacking)
Box Dimensions: 31 (H) x 56 (W) x 46 (D)

Weight

Approximately 150lbs. with stand
Box Weight:

Approximately 249 lbs

Power Source

Power Consumption

Maximum: 140W or less
Standby: 5W or less
Power Off: .5W or less (Compliant with Executive Order)

Operating Environment

Temperature: 59°-86° F (15°-30° C)
Relative Humidity: 10-80% (No Condensation)

User-replaceable items

Print Head: PF-04
Maintenance Cartridge: MC-10
Ink Tanks: PFI-107 (130ml: C, M, Y, BK, MBK), PFI-207 (300ml: C, M, Y, BK, MBK)

Software Included

Canon Printer Driver
Printer Driver Extra Kit (Free Layout, Color imageRUNNER Enlargement Copy, Advanced Preview)
Direct Print & Share
imagePROGRAF Print Utility
PosterArtist Lite (PC Only)
Print Plug-in for Microsoft® Word/Excel/PowerPoint (PC only)
Status Monitor
Media Configuration Tool
Optimized Module for AutoCAD

Scanner Specs

Scanner Type: Contact Image Sensor (CIS) technology
Scan Accuracy: +/- 0.1%
Speed: 13 ips monochrome, 3 ips color @ 200 dpi
Optical Resolutions: 1200 dpi (Available resolutions 100, 200, 300, 400, 600, 1200)
Max. Resolutions: 1200 dpi
Max. Document Size: Width - 42 document width (40 image width)
Length: 315 (JPG/PDF), 598(TIFF)
Thickness: 0.079 (2mm)
How-To: Canon Driver Download
How-To: Canon Driver Installation & Configuration
Canon M40 imagePROGRAF iPF785 Multifunction