Canon imagePROGRAF iPF670 Printer
Product Number:
9854B005AA
$1,000.00
Save $600.00
(Reg. $1,600.00)

In Stock
Canon imagePROGRAF iPF670 24" Plotter Benefits:
Perfect for printing signs and posters
Prints beautiful color images
Prints fast even in economy mode
Comes pre-loaded with tons of user-friendly software
Low Price on the Canon IPF670 24-inch Printer

Regular Price

$1,600

Current Price

$1,000

Canon imagePROGRAF iPF670 24" Printer Specifications:

Printer Type

5-Color 24-inch Printer Plotter

Number of Nozzles

Total: 15,360
MBK: 5,120 nozzles
C, M, Y, BK: 2,560 nozzles each

Nozzle Pitch

1,200 dpi
Non-firing nozzle detection and compensation

Print Resolution (Up to)

OS Compatibility

Windows XP/Server 2003/Server 2008/Vista/7/8 (32/64bit)
Macintosh OSX 10.3.9-10.6 (32 bit), OS X 10.5-10.6 (64 bit)

Standard Interfaces

USB 2.0 High-Speed
10/100/1000 Base-T/TX

Ink Droplet Size

Ink Capacity

Ink Droplet Size

Color Set

Dye: Cyan, Magenta, Yellow, Black
Pigment: Matte Black

Buffer Ram

8 GB dedicated file processing memory, 256 MB RAM

Media Width

Cut Sheet: 8"-24" (203.2mm-610mm)
Roll Feed: 10"-24" (254mm-610mm)

Media Thickness

Maximum Roll Print Length

Roll Feed: 59' (18 meters)
Cut Sheet: 63" (1.6 meters)

Maximum Media Roll Diameter

Borderless Printing Width

10, B4, A3, 14, A2, 17, B2 (20.28/515 mm), A1 (23.38/594mm), 24"

Paper Feed Method

Roll Feed: One Roll, Top-loading, Front output
Cut Sheet: One sheet, Top loading, Front output

Languages

GARO (Canon Proprietary), HP-GL/2, HP RTL

Noise Level Approx

Operation: 47 dB (A)
Standby: 35 dB (A) or less
Acoustic Power: 6.5 Bels

Physical Dimensions

42"H x 39"W x 34"D (When basket is open)

42"H x 39"W x 28"D (When basket is closed)
20"H x 39"W x 27"D (Without stand)

Weight

Approximately 116 lb. with stand
Approximately 95 lb. without stand

Box Dimensions & Weight:
42"H x 44"W x 33"D, 196 lb. with stand
30"H x 44"W x 33"D, 158 lb. without stand

Power Source

Power Consumption

Maximum: 140W or less
Standby: 5W or less
Power Off: .5W or less (Compliant with Executive Order)

Operating Environment

Temperature: 59°-86° F (15°-30° C)
Relative Humidity: 10-80% (No Condensation)

User-Replaceable Items

Print Head: PF-04
Maintenance Cartridge: MC-10
Ink Tanks: PFI-107 (130ml: C, M, Y, BK, MBK)

Software Included

Canon Printer Driver, Printer Driver Extra Kit (Free Layout, Color imageRUNNER Enlargement Copy, Advanced Preview), Direct Print & Share, imagePROGRAF Print Utility, Poster Artist Lite (PC Only), Print Plug-In for Microsoft Word/Excel/PowerPoint (PC Only), Status Monitor, Media Configuration Tool, Optimized Module for AutoCAD
Related Articles:
Vibrant Colors without the heavy price tag
The Canon imagePROGRAF iPF670 is the perfect choice for text and image, CAD drawings and architectural renderings in a small package. The iPF670 utilizes a unique ink system with a 5-color dye-and-pigment ink system for vibrant and sharp prints, and the ability to accommodate 300 ml ink tanks which can be changed hot in the middle of a print run.
Affordably priced 24" Large Format, 5-Color Printer for Small Workgroups With High-Output Needs. Perfect for CAD and technical drawings, blueprints, posters, signs and presentation graphics. 9854B005AA
Call 414-321-1422 or email support@wabpapersupply.com to discuss the Canon iPF line of high-speed plotter/printers.
We are now accepting trade-ins for Canon iPF printers - Call us today at 414-321-1422 to learn more!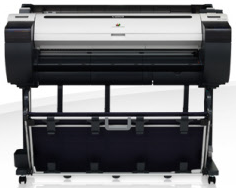 The new Canon iPF670 replaces the venerable iPF 650 series and builds on these printers' impressive suite of capabilities. Like its predecessors, the iPF670 is a 5-color 24" large format printer. Its streamlined body size makes it a great choice for businesses seeking a high-productivity printer in a more compact size. While the iPF670 is one of Canon's more affordable plotters, it is a surprisingly sophisticated unit and more than able to keep up with demanding workflows.
PRINTER'S NOTE: A step up from the Canon iP670, the imagePROGRAF 670 MFP (Multi-Function Printer) version, part of thecompact Canon L-series of MFPs, adds scan-to-copy and the ability to make files quickly and easily with a touch-screen monitor—perfect for printing and archiving maps, proofs and posters. View more information on the Canon iPF670 MFP.
Shop all iPF670 printable media at WAB Paper Supply.
Canon imagePROGRAF iPF670 Cloud-Ready Printer
The iPF670 lets you take advantage of cloud-based applications to boost productivity and streamline your printing workflow. Canon's unique cloud-based solution, Direct Print & Share (available as a download) lets you upload, download, share and print files from anywhere—on a computer or a mobile device. Just log on to your Google Cloud Storage™ account to access your files.
Canon has also made it possible to print to the iPF 670 from an Apple iPad. A new downloadable mobile printing app, the imagePROGRAF Print Utility, enables you to print PDFs from your iPad via an internet connection. If your office has incorporated iPads and other mobile devices, you're going to love the enhanced flexibility the iPF 670 enables. Another new feature of Direct Print & Share that Canon integrated into the iPF 670 is a shortcut print feature that lets you create shortcuts to the print settings you use the most. To print, just drag and drop files onto your designated shortcuts. Now you can batch printing multiple pdf, tif or jpg files without having to open them in their original application. Is your head in the cloud yet? It will be with the iPF 670.
Canon imagePROGRAF iPF670 Software Included
Canon includes an impressive bundle of software with the iPF 670. There's an Optimized Driver for AutoCAD to ensure your printouts look exactly like what you see onscreen. To keep track of job costs, the iPF 670 includes Canon's excellent Accounting Manager software. A Print Plug-in for Microsoft Office lets you print documents you created in Word, Excel or Powerpoint in large format. Also, Canon includes their Media Configuration Tool to help you make the most of Canon-branded media when printing and PosterArtist, Canon's easy-to-use, template-based poster creation software.
Canon IPF670 Plotter Accessories & Printing SuppliesFor Canon inks, plotter paper rolls, printer heads and any other printing supply you may need, trust WAB Paper Supply to have it. Our expertise in digital plotters, copiers, scanners and digital reprographic systems is known throughout the industry and our lowest possible prices make us your best source for the hardware and supplies you need to run your business.
Canon imagePROGRAF iPF670 Plotter Accessories & Printing Supplies
The Canon iPF670 series uses 130ml ink tanks.
PFI-107 130ml Ink Tanks: (PFI107BK, PFI107MBK, PFI107C PFI107Y, PFI107M)
The user-changeable cartridge (MC 10) is a wonderful addition to the large format market. Being able to quickly and easily change cartridges equates to fewer service calls—always a plus for any busy work environment. The Canon imagePROGRAPG IPF plotter series uses their outstanding (PF-04) print head. Engineered for speed and high-quality image production, this print head puts down ink in 4 picoliter-sized droplets with astounding speed and accuracy. The PF-04's high-density nozzle is shaped to minimize mist, reduce satellite ink, and deliver exceptionally clean lines and text. With a total of 15,360 nozzles, the sharpness and detail of output is remarkable. In fact, this printer head delivers consistently accurate 2400 x 1200 dpi output with fine line accuracy to ±0.10% and as thin as 0.02mm.
How-To: Canon Driver Download
How-To: Canon Driver Installation & Config
Canon iPF670 vs iPF670E
Canon's imagePROGRAF iPF670E is the newer model in the iPF670 series.
Both the iPF670 and the iPF670E are 5-color, 24-inch inkjet printers with healthy-sized, long-lasting ink tanks.
The iPF670 accepts roll feed or cut sheet media, while the iPR670E only takes roll feed.
The iPF670 is heavier than the newer model, weighing in at 116 lb. compared to the iPF670E's 92 lb.
Both plotters offer professional quality large format printing at a competitive cost per page, with faster average print speeds than competing models.
Canon iPF670 vs iPF680
Both the iPF670 and the iPF680 offer advanced ink technology and a Sub-ink tank system for maximum ink economy. Hardware and software upgrades give the iPF680 enhanced capabilities for a higher price point than the iPF670.
The imagePROGRAF iPF680 has a faster print speed, able to crank out a 24" x 36" drawing in just 25 seconds (economy mode).
The 680 is larger and comes with a stand and basket, while the 670 comes standard as a desktop model with an optional stand and basket.
Both plotters include a print server and driver—the iPF670 also includes a scanner.
Canon iPF670 vs iPF770
Both of these cost-effective CAD plotters are ideal for posters, printers, signage, technical documents and more.
Canon's imagePROGRAF iPF770 has a maximum print width of 36" while the iPF670 can print up to 24" wide.
The iPF770 unit includes a stand and basket, while the iPF670 gives you the option of a stand or use as a desktop printer.
For Canon printers/plotters, banner and sign printers, scanners, wide-format multifunction printers, plotter paper rolls, or any other printing supply needs, WAB Paper Supply stands above all online stores. Our expertise in digital plotters, copiers, scanners and digital reprographic systems is well-known in the industry, and our lowest possible prices make us your best source for the hardware and supplies you need to run your business.
View the Canon Plotter Printers Guide
Shop Canon Plotters online at WAB Paper Supply for all your business printing solutions.