Canon imagePROGRAF PRO-2000 Color Printer 1124C002AA
Product Number:
1124C002AA

In Stock
Canon imagePROGRAF PRO-2000 Professional Production Printer 1124C002AA
The Canon imagePROGRAF PRO 2000 is a functional and attractive plotter perfect for any office. Featuring a 1.28" print head, 4,832 nozzles, and a LUCIA PRO 8-Color ink system will output color or black and white business documents with vivid color and precision. The PRO-2000 also features high capacity ink tanks, Wi-Fi connectivity, and user-friendly software to increase productivity and integrate seamlessly into your workspace. Even a new-hire or technophobe can easily operate the user-friendly interface of the Canon PRO-2000 with little trouble making it a perfect plotter for any office.
Better Features. Better Production.
Speaking of hands—scanning documents can be a stressful experience when fingerprints and other blemishes ruin the quality of a scanned photo or file. This model boasts a technology known as media feeding capability, meaning everything you scanned will be printed out without any of the oil-related damage you've dealt with in the past.
Invest in ease, invest in peace of mind. Consider the PRO-2000 plotter printer if you're interested in improving productivity in the workplace.
Directly Link your Canon EOS camera to a Canon PRO-2000 Printer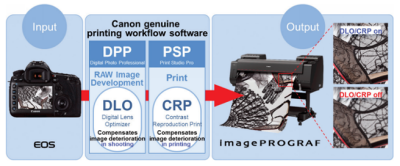 Photographers and digital professionals can directly link a digital camera to the PRO 2000 or PRO 4000 printers. This process is called crystal-fidelity. It ensures the clarity and texture of the photo is maintained. Every time you print with the ImagePROGRAF printer expect flawless accuracy and efficiency. Other competing printers such as HP and Epson don't have the ability to directly link a camera to a printer.
Canon PRO-2000 vs Canon PRO-4000
The PRO 2000 has a maximum print width of 24" while the PRO 4000 has a 44" capacity.
Both models are smaller in size than the previous generation, freeing up valuable space in your studio.
More enhancements over prior models: the PRO 2000 and PRO 4000 feature a touchscreen interface (replaced buttons), a USB port, wireless connectivity and adjustable paper basket. Both hardware and software are easier to install, with all needed software bundled into a package installation program.
Richer Color Expression with the Lucia PRO 11-Color Pigments Inks
Colors are richer and blacks are deeper with the Lucia PRO 11-Color Pigment inks. It's newly developed for the Canon imagePROGRAF PRO printers. The imagePROGRAF series will print with wide color gamut, low graininess and good gloss characteristics. Capacity inks with a size of 160mL, 330mL, and 700mL can be used with any printer in this series.

Benefits of the Canon imagePROGRAF PRO-2000 24" Printer
The Canon imagePROGRAF PRO-2000 24 allows photographers to print high-quality images with speed and reliability. When purchased, the following benefits will be recognized.
Richer colors and deeper blacks to print the exact image from your camera
Faster printing and higher print quality due to a new 1.28 wide print head
Dual roll out for continues paper feed
Plug and print PDFs or JPEGS with USB memory stick
"hot swap" ink tanks for uninterrupted printing
Print effortlessly from Adobe Lightroom, Adobe Photoshop and Canon digital photo professional with the print Studio Pro Plug-in.
Large preview screen
16-bit print workflow
Soft proofing
Print history
Contrast reproduction
Edit tone curves and import/export
For more information, click on the PDFs above
For a printer with a multi-function role, view our imagePrograf PRO-2000 24-inch Printer w/MFR.
Searching for more models? Shop our Canon plotters for more printing options.
Technical Information
Canon imagePROGRAF Pro 2000 Print 1124C002AA Specs:

Printing Technology

FINE: Full-Photolithography Nozzle Engineering

Head Configuration

12-Channel Integrated Type

Nozzle Configuration

1,536 Nozzles x 12 Channels: 18, 432 Total

Minimum Droplet Size

4 Picoliters per Color

Maximum Print Resolution

Up to 2400 x 1200 dpi

Ink Information

Type-Pigment-Based LUCIA PRO Ink Technology
PFI-1100 (160 ml): PBK, MBK, C, M, Y, PC, PM, GY, PGY, R, B, + CD
PFI-1300 (330 ml): PBK, MBK, C, M, Y, PC, PM, GY, PGY, R, B, + CD
PFI-1700 (700 ml): PBK, MBK, C, M, Y, PC, PM, GY, PGY, R, B, + CD
Canon imagePROGRAF Pro 2000 Printer 1124C002AA Specs:

Print Head

PF-10

Colors

Photo Black, Matte Black, Cyan, Magenta, Yellow, Photo Cyan, Photo Magenta, Photo Gray, Red, Blue, Chroma Optimizer

Ink Tank Shipped with Printer

12 Tanks:
PRO-4000(190 ml Starter Tank, Each color)
PRO-2000(160 ml Starter Tank, Each Color)

Hard Disk Capacity

320 GB

Printer Memory

3 GB

Printer Stand

Standard

Display

3.5

-inch

Color LCD Touch-Screen

Size/Weight (with basket open)

PRO-4000: 46.0

-inch

(H) x 62.7

-inch

(D)/Approximately 271 lb.
PRO-2000: 46.0

-inch

(H) x 43.7

-inch

(W) x 38.7

-inch

(D)/Approximately 223 lb.
Canon imagePROGRAF Pro 2000 Media 1124C002AA Specs:

Media Feed

Front-Loading Roll Feed: One roll. Front Output
Front-Loading Manual Feed: Front Loading. Front output.

Media Width

PRO-4000 8-inch x 44-inch (Cut-Sheet and Roll)
PRO-2000 8-inch x 24-inch (Cut-Sheet and roll)

Minimum Media Length

8-inch

Maximum Print Length

59-inch (Roll Paper)
63-inch (Cut-Sheet)

Borderless Printing Widths

PRO-4000: 10-inch/14

-inch

/17

-inch

/24

-inch

/36

-inch

/42

-inch

/44

-inch


PRO-2000: 10

-inch

/14

-inch

/17

-inch

/24

-inch

Media Thickness

.07mm - 8mm

Media Core Sizes

2

-inch

or 3

-inch

Core (with Supplied Adapter)

Printable Margins

Roll Paper: Top: 3mm: Bottom: 3mm: Side: 3mm
Borderless: Top: 0mm: Bottom: 0mm: Sides: 0mm
Cut-Sheet: Top: 3mm: Bottom: 20mm: Side: 3mm

Maximum Media Roll (Outer Dia)

6.7

-inch

(170 mm)

Fine Art Media

Photo Paper Pro Premium Matter, Fine Art Natural, German Etching by Hahnemuhle. Fine Art Bright White, Artistic Satin Canvas, Artistic Matte Canvas, Water Resistant Matte Canvas, Fine Art Photo Rag by Hahnemuhle, Fine Art Enhanced Velvet, Premium Fine Art Smooth

Photographic/Glossy Paper

Photo Paper Pro Platinum, Photo Paper Pro Luster Satin Photo Paper, Glossy Photo Paper, Premium RC Photo Matte, Premium RC Photo Luster, Premium Glossy Photographic Paper, Premium Semi-Glossy Photographic Paper, Premium Metallic PhotoGloss
For a complete listing, please visit www.usa.canon.com/consumables
Canon imagePROGRAF Pro 2000 General 1124C002AA Specs:

Interfaces

HiSpeed USB. 10/100/1000
Base-T/TX Wireless Lan (IEEE 802.11 b//g/n)

Printer Language

Swift Graphic Raster (SGRaster)

Recommended Operating Environment"

Temperature: 59 - 86 degrees F (15-30 C)
Humidity: 10 - 80% (No Condensation)

Power Supply

AC 100-240 V (50 - 60 Hz)

Power Consumption

PRO-4000 Maximum: 112W or Less
PRO-2000 Maximum: 88W or Less
Standby: 1.8W or Less
Power Off: 0.5W or Less

Printing Software

imagePROGRAF Printer Driver. Print Studio PRO. Print Plug-In for Microsoft Office. PosterArtist lite

Optional Software

PosterArtist

OS Compatibility

32-bit: Windows Vista/7/8/8.1/10
64-bit: Windows Vista/7/8/8.1/10
Mac: OS X v10.75 - 10.11x

Utilities

Accounting Manager, Device Management Console, Media Configuration Tool, Quick Utility Toolbox

User-Replaceable items

Print Head (PF-10)Maintenance Cartridge (MC-30)Rotary Cutter (CT-07)

Options

PRO-4000: Multifunction Roll System (RU-41), Roll Holder Set (RH2-45)
PRO-2000: Multifunction Roll System (RU-21) Roll Holder Set (RH2-27)
For a complete listing of technical information go to usa.canon.com.
RELATED PRODUCTS