Canon imagePROGRAF PRO-2000 24-inch Printer w/ MFR
Product Number:
CanonPro2000MFR

In Stock
Canon imagePROGRAF PRO-2000 24" Printer w/MFR for Sale Online
The Canon Pro-2000 w/MFR 24" Plotter has a multi-function roll system and has features worthy of the Canon brand. Focused on reducing waste, the PRO-2000 w/MFR has anti-clogging technologies. The status of ink injections is constantly monitored, so if anything is found to be clogged, backup can be provided immediately. Without this in place, clogging could waste paper and prints, which is neither environmentally friendly nor efficient.
Aside from having the ability to acknowledge and correct clogs, this canon plotter has been outfitted with color calibration in an effort to uphold the Canon name with the production of reprinting stunning colors. Sensors are used in scans to measure the exact range and depth of the colors being replicated, so when you scan a photograph or document, you will receive a crisp, exact copy.
New Canon PRO-2000 24" Printer Features
Doubling as an office assistant, the PRO-2000 w/MFR now has an Accounting Manager feature to help you calculate your print costs. In fact, it won't be helping, it'll just do all the work. Sit back and take an extra five minutes at lunch while the Accounting Manager collects your printing data to report on how much ink and paper you consume on up to 50 printers.
If you're operating a well-established institution or corporation, you will also benefit from the PRO-2000's Device Management Console. You won't have to lift a leg to find out the printer and ink statuses of up to 50 interconnected units from anywhere in the world. Instead of running around checking cartridges, you can add ANOTHER five minutes to your lunch break while you let this Canon Plotter improve your quality of life and productivity of your business.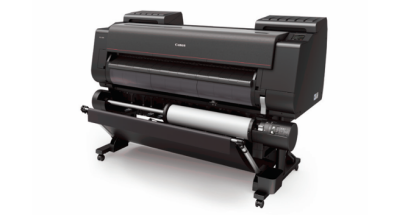 Rebate Program for Canon PRO-2000 24" w/MFR Plotter Printers in Universities
As an avid supporter of higher education, Canon has a rebate program available for schools and universities who want to save money on providing efficiency and convenience to their place of learning.
Hi-tech technologies in Universities and school is an affordable reality with Canon's rebate program for plotter printers. With a multitude of printers in your building, the Canon PRO-2000 w/MFR will help prepare you and your student body for a day of success and learning.
Browse our full selection of Canon printers available for sale from WAB Paper Supply.
Technical Information
Printing Technology

FINE: Full-photolithography Nozzle Engineering

Head Configuration

12-Channel Integrated Type

Nozzle Configuration

1,536 Nozzles x 12 Channels: 18, 432 Total

Minimum Droplet Size

4 Picoliters per Color

Maximum Print Resolution

Up to 2400 x 1200 dpi

Ink Information

Type-Pigment-Based LUCIA PRO Ink Technology

PFI-1100 (160 ml): PBK, MBK, C, M, Y, PC, PM, GY, PGY, R, B, + CD
PFI-1300(330 ml): PBK, MBK, C, M, Y, PC, PM, GY, PGY, R, B, + CD
PFI-1700(700 ml): PBK, MBK, C, M, Y, PC, PM, GY, PGY, R, B, + CD
Print Head

PF-10(1)

Colors

Photo Black
Matte Black
Photo Cyan
Photo Magenta
Photo Gray
Cyan
Magenta
Yellow
Red
Blue
Chroma Optimizer

Ink Tank Shipped with Printer

12 Tanks:

PRO-2000MFR(160 ml Starter Tank, Each Color)

Hard Disk Capacity

320 GB

Printer Memory

3 GB

Printer Stand

Standard

Display

3.5" Color LCD Touch-Screen

Size/Weight (with basket open)

PRO-2000MFR: 46.0" (H) x 43.7" (W) x 38.7" (D)/Approximately 223 lb.
Media Feed

Front-Loading Roll Feed: One roll. Front Output
Front-Loading Manual Feed: Front Loading. Front output.

Media Width

PRO-2000MFR: 8" x 24" (Cut-Sheet and roll)

Minimum Media Length

8"

Maximum Print Length

59" (Roll Paper)
63" (Cut-Sheet)

Borderless Printing Widths

PRO-2000MFR: 10"/14"/17"/24"

Media Thickness

.07 mm - 8 mm

Media Core Sizes

2" or 3" Core(with Supplied Adapter)

Printable Margins

Roll Paper: Top: 3 mm: Bottom: 3mm: Side: 3mm
Borderless: Top: 0mm: Bottom: 0mm: Sides: 0mm
Cut-Sheet: Top: 3 mm: Bottom: 20 mm: Side: 3mm

Maximum Media Roll (Outer Dia)

6.7" (170 mm)

Fine Art Media

Photo Paper Pro Premium Matter
Fine Art Natural
German Etching by Hahnemuhle
Fine Art Bright White
Artistic Satin Canvas
Artistic Matte Canvas
Water Resistant Matte Canvas
Fine Art Photo Rag by Hahnemuhle
Fine Art Enhanced Velvet
Premium Fine Art Smooth

Photographic/Glossy Paper

Photo Paper Pro Platinum, Photo Paper Pro Luster Satin Photo Paper, Glossy Photo Paper, Premium RC Photo Matte,Premium RC Photo Luster, Premium Glossy Photographic Paper, Premium Semi-Glossy Photographic Paper, Premium Metallic PhotoGloss

For a complete listing, please visit www.usa.canon.com/consumables
Interfaces

HiSpeed USB. 10/100/1000Base-T/TX Wireless Lan (IEEE 802.11 b//g/n)

Printer Language

Swift Graphic Raster (SGRaster)

Recommended Operating Environment"

Temperature: 59 - 86 degrees F (15-30 C)
Humidity: 10 - 80% (No Condensation)

Power Supply

AC 100-240 V (50 - 60 Hz)

Power Consumption

PRO-2000MFR Maximum: 88W or Less
Standby: 1.8W or Less
Power Off: 0.5W or Less

Printing Software
imagePROGRAF Printer Driver. Print Studio PRO. Print Plug-In for Microsoft Office. PosterArtist lite

Optional Software

PosterArtist

OS Compatibility

32-bit: Windows Vista/7/8/8.1/10
64-bit: Windows Vista/7/8/8.1/10
Mac: OS X v10.75 - 10.11x

Utilities

Accounting Manager
Device Management Console
Media Configuration Tool
Quick Utility Toolbox

User-Replaceable items

Print Head (PF-10)
Maintenance Cartridge (MC-30)
Rotary Cutter (CT-07)

Options

PRO-2000MFR: Multifunction Roll System (RU-21) Roll Holder Set (RH2-27)