Canon imagePROGRAF iPF610 24-inch Large Format Printer
Product Number:
2159B002AA

In Stock
24" Large-Format Canon Printer
2159B002AA
for Windows and Mac Operating Systems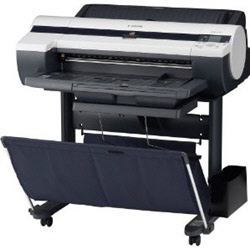 The Cannon IPF610 (sometimes referred to as the imagePROGRAF iPF610) 24" printer is great for both glossy, color printouts and office text documents alike! This all-purpose printer has a phenomenal driver for both Windows and Mac operating systems, making it an all-around versatile machine that is great for home and office use. This printer can be used for businesses of all sizes, and common fields that the Canon IPF610 24" is great for include:
Businesses that Frequently Use Multi-Media Color Printers
Design Firms
Drafting Classes/Educators
Architectural Companies
Print Marketing Companies
Archival Centers
Reprography Businesses
Many businesses who depend on the speed and performance of Macintosh systems simply find themselves out of luck when searching for a large-format, color printer. With the IPF610, Cannon has successfully presented devout Apple uses with a new option to get the highest quality photo and CAD printouts possible!
Large-Format Canon Printer for 24" Glossy Paper Printouts
If you're looking for larger printouts for full-size CAD drawings, or simply need a bigger printer WAB Paper Supply has an impressive selection of 44" Cannon plotters as well. However, for general use the Canon imagePROGRAF 610 is one of their top models for anyone needing an all-encompassing printer.
Features of the Canon IPF610 Photo Printer
1) High-Resolution Printouts
If you need crystal-clear, high-quality, color photo printouts this machine can create 2400 X 1200 DPI, high-resolution prints. Of course it is also great for simple text documents as well!
2) Cannon's Highly-Sophisticated Reactive Ink System
This highly innovative ink system allows for ultra-fast printing by implementing two channels of matte-black ink. In addition, it uses four different cartridges of dye color inks, and the dye-based black ink will be used exclusively when printing on glossy, semi-glossy, matte photo paper, or other coated media.
3) Cannon's High-Density 15,360 Nozzle Print Head
Cannon has personally designed this printer's nozzle system to include a staggering 15,360 different print heads to give you the sharpest color printouts that money can buy. This also allows for lighting fast printouts in no time!
4) Borderless Printing Capabilities
With the use of roll media, the IPF610 gives you a range of borderless printing options for large graphics and pop-up displays.
Other Printers from WAB Paper Supply
The Canon IPF610 is great, however, it may not be suited for all applications. Anyone wanting a stand-alone printer for text documents, or a large commercial printer for blueprints and full CAD drawings should browse through our entire inventory of Canon printers today!
Some users claim that this machine can be hard to load, and has a bit of a learning curve. There's no need to worry as both Cannon and WAB Paper Supply have a great team of tech support and customer services associates that are more than willing to assist you with any questions you may have. Most users actually pick up on the IPF610 exceptionally fast, and swear that it is the best, all-purpose printer that they have ever had!
Shop Canon IPF610 Large Format Printers Overview:
The Canon imagePROGRAF iPF610 24" large format printer produces vibrant full-bleed posters, clear text documents and crisp line drawings easily and quickly. the Canon iPF610 printer 24" output will impress clients and colleagues by communicating visual layouts with eye-catching color and exacting details. The imagePROGRAF iPF610 printer features a Reactive Ink system consisting of four highly colorfast dye inks - Cyan, Magenta, Yellow and Black - plus two channels of pigment-based matte black.
The new imagePROGRAF Canon iPF610 printer has a large LCD panel and operates with a reduced amount of noise, which means greater ease of operation and more flexibility in various environments. The Canon iPF610 printer provides both quality and performance, demanded by today's market with the L-COA controller - the brain of the imagePROGRAF iPF series. The L-COA controller, alongside the 5-color Reactive Ink system, is designed to drive the best quality output at the highest possible speeds. The Canon iPF610 printer has onboard support for HP-GL/2 and HP RTL files. It prints on a variety of media plus the inclusion of printing/application software programs provides the versatility and flexibility needed to be used in a wide variety of industries and applications, all in one captivating package.
Shop Canon Plotters for all your business printing needs from WAB Paper Supply!
Canon IPF610 Plotter Printer Specs
Printer Type

5-Color 24-inch Printer

Number of Nozzles

Total: 30,720
MBK: 5,120 nozzles
C, M, Y, BK: 2,560 nozzles each

Nozzle Pitch

1,200 dpi

Nozzle Recovery System

Non-firing nozzle detection and compensation

Print Resolution (Up to)

2,400 x 1,200 dpi (Max)

OS Compatibility

Windows®(2000/XP/Vista 32/64bit)
MAC(OS9, OS10)1

Standard Interfaces

USB 2.0 High-Speed
10/100 Base-T/TX
Optional: IEEE 1394 (Firewire®)

Ink Droplet Size

4 picoliter

Ink Capacity

130ml per color2

Ink Droplet Size

Dye/Pigment Reactive Ink

Color Set

Dye: Cyan, Magenta, Yellow, Black
Pigment: Matte Black (two channels)

Buffer Ram

256 MB

Hard Drive

N/A

Media Width

Cut Sheet and Roll: 8" - 24"
Cassette: 8" - 17"

Media Thickness

Top Loading Manual Feed: 0.07 - 0.8mm (2.8 - 31.4mil)
Front Loading Manual Feed: 0.5 - 1.5mm (19.6 - 59.0mil)
Roll: 0.08 - 0.8mm (2.8 - 31.4mil)
Cassette: 0.08 - 0.3mm (3.2 - 11.8mil)

Maximum Roll Print Length

59 Feet (18 meters)3

Maximum Media Roll Diameter

5.9" (150mm)

Borderless Printing Width

10" (254 mm), B4 (257 mm), A3+ (329 mm), 14" (356 mm), 16" (407 mm), A2 (420 mm), A2+/17" (432 mm), B2 (515 mm), A1 (594 mm), 24" (610 mm)

Paper Feed Method

Roll Feed: One Roll, front output
Top Loading Manual Feed: One sheet, front output
Front Loading Manual Feed: One sheet, front output
Cassette: Up to 250 Sheets (Letter, Plain Paper), front output

Languages

Language: GARO (Canon Proprietary)

Noise Level Approx

Operation: 52 dB (A) or less
Standby: 35 dB (A) or less
Acoustic Power: 6.6 Bels

Physical Dimensions

38.9" (H) x 39.3" (W) x 39" (D)

Weight

Approximately 149.9 lbs with stand

Power Source

AC-100-120V (50-60Hz)

Power Consumption

Maximum: 100W or less
Standby 6W or less
Power Off: 1W or less (Compliant with Executive Order)

Operating Environment

Temperature: 59°-86° F (15° - 30° C)
Relative Humidity: 10-80% (No Condensation)

User-replaceable items

Print Head (PF-03), Maintenance Cartridge (MC-16)

Software Included

Canon Printer Driver, Digital Photo Front-Access, Printer Driver Extra Kit (Free Layout, imageRUNNER Linking Function), HDI Driver for AutoCAD4