Canon imagePROGRAF iPF650 24" Printer

In Stock
The Canon iPF 650 is a large format color inkjet printer well-suited for both small workgroups and personal use. If you don't anticipate needing to print anything larger than 24" wide and want a reasonably priced machine capable of printing posters, blueprints, technical drawings, signs and presentation graphics, the iPF 650 is an excellent choice.
Call 800-321-1974 or email support@wabpapersupply.com to discuss the Canon iPF line of high-speed plotter/printers. You simply won't find a better price on a new Canon iPF printer anywhere else!
We are now accepting trade-ins for Canon iPF printers - Call us today at 800-321-1974 to learn more!
PRINTER'S NOTE: The Canon imagePROGRAF 650 is an affordably priced large format printer that works exceptionally well for smaller work environments and smaller budgets. View more information on the Canon iPF765 MFP.
The Canon IPF 650 24" printer now has a new version the Canon IPF 680 24" printer.
Canon IPF 650 24" Printer overview: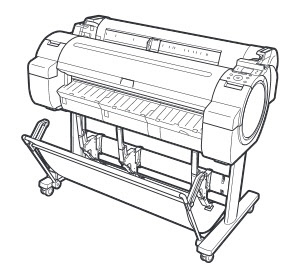 The 24" imagePROGRAF iPF650 is an ideal large format printing solution for smaller professional settings such as in schools and small to medium-sized offices. Designed to simplify the large format printing process, the iPF650 is a workhorse of a machine offering surprising versatility, speed, and quality of print images.
With its compact dimensions, the Canon iPF650 can easily fit into just about any office environment. Its fully front-accessible controls allow for setting the printer up flush to the wall so precious space is not eaten up by the printer. Canon also designed this printer to be as "green" as possible. Built with less plastic, requiring only 140 watts of power in use, and having reduced CO2 emissions, the iPF650 has earned an ENERGY STAR designation.
One of the great features of the Canon iPF650 printer is its outstanding ease-of-operation. Whether you're loading paper or navigating through the print options in the control panel, you'll find this printer's user-friendly and intuitive interface a welcome change in a world of overly complex technology. Printing in draft mode to save ink produces surprisingly clear printouts and can significantly down on expenses.
Large Format Printer Features, Not So Large Format Price
Although considered an entry-level plotter—and priced accordingly—the Canon iPF650 offers extras like accounting functionality, a sub-ink tank system for quick and easy ink replacement, and Gigabit Ethernet support. The iPF650 also has on-board support for HP-GL/2 and HP-RTL files, as well as standard and HDI printer drivers—providing the versatility and flexibility needed in a wide variety of industries and applications. Included with this value-packed printer is Canon's excellent Poster Artist software, a poster creation program designed to create professional posters, banners and signage in just four easy steps.
Like all of Canon's iPF series plotters, the iPF650 uses Canon's outstanding PF-04 print head. Engineered for speed and high-quality image production, this print head puts down ink in 4 picoliter-sized droplets with astounding speed and accuracy. The PF-04's high-density nozzle is shaped to minimize mist, reduce satellite ink, and deliver exceptionally clean lines and text. With a total of 15,360 nozzles, the sharpness and detail of output is remarkable. In fact, this printer head delivers consistently accurate 2400 x 1200 dpi output with fine line accuracy to ±0.10% and as thin as 0.02mm.
Canon IPF650 Plotter Accessories & Printing Supplies
For Canon printers/plotters, banner and sign printers, scanners, wide-format mfps, plotter paper rolls, or any other printing supply needs, WAB Paper Supply stands above all online stores. Our expertise in digital plotters, copiers, scanners and digital reprographic systems is well-known in the industry, and our lowest possible prices make us your best source for the hardware and supplies you need to run your business.
Canon iPF650 24" Printer Specifications:

Printer Type

5-Color 24-inch Printer

Number of Nozzles

Total: 15,360

MBK: 5,120 nozzles

C, M, Y, BK: 2,560 nozzles each

Nozzle Pitch

1,200 dpi

Non-firing nozzle detection and compensation

Print Resolution (Up to)

2,400 x 1,200 dpi (Max)

OS Compatibility

Windows XP/Server 2003/Server 2008/Vista/7 (32/64bit), Macintosh OSX 10.3.9-10.6 (32 bit), OS X 10.5-10.6 (64 bit)

Standard Interfaces

USB 2.0 High-Speed

10/100/1000 Base-T/TX

Ink Droplet Size

4 picoliter

Ink Capacity

130ml per color2

Ink Droplet Size

Dye/Pigment Reactive Ink

Color Set

Dye: Cyan, Magenta, Yellow, Black

Pigment: Matte Black (two channels)

Buffer Ram

256 MB

Hard Drive

N/A

Media Width

Roll Feed - 10" - 24" (254mm - 610mm)

Cut Sheet - 8" - 24" (203.2mm - 914mm)

Media Thickness

0.07-0.8mm (2.8-31.4mil)

Maximum Roll Print Length

Roll Feed - 59' (18 meters)3

Cut Sheet - 63" (1.6 meters)

Maximum Media Roll Diameter

5.9" (150mm)

Borderless Printing Width

10", 14", 17", 24" B2 (20.28"/515 mm), A1 (23.38"/594mm)

Paper Feed Method

Roll Feed: One Roll, Top-loading, Front output

Cut Sheet:: One sheet, Top loading, Front output

Languages

Language: GARO (Canon Proprietary), HP-GL/2, HP-RTL

Noise Level Approx

Operation: 47 dB (A) or less

Standby: 35 dB (A) or less

Acoustic Power: 6.4 Bels

Physical Dimensions

41.8" (H) x 39.3" (W) x 34.3" (D)

Weight

Approx. 119 lbs. (54 kg)

Power Source

AC-100-120V (50-60Hz)

Power Consumption

Maximum: 140W or less

Standby 5W or less

Power Off: 1W or less (Compliant with Executive Order)

Operating Environment

Temperature: 59°-86° F (15°-30° C)

Relative Humidity: 10-80% (No Condensation)

User-replaceable items

Print Head (PF-04)

Maintenance Cartridge (MC-07)

Ink Tanks (PFI-102: C, Y, K, MBK), (PFI-104:M)

Software Included

Canon Printer Driver, Digital Photo Front-Access, Printer Driver Extra Kit (Free Layout, Color imageRUNNER Enlargement Copy, Advanced Preview), HDI Driver for AutoCAD4, PosterArtist Lite (PC Only), Print Plug-in for Microsoft® Word/Excel/PowerPoint (PC only)
Canon IPF650mfp Plotter Ink Selection
Shop Canon Printers online at WAB Paper supply.