Canon imagePROGRAF iPF750 36-inch Large Format MFP
Product Number:
ipf750mfp

In Stock
Canon imagePROGRAF iPF750 MFP M40 36" Multi-Function Plotter/Printer/Copier/Scanner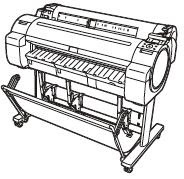 The Canon imagePROGRAF MFP plotter is a fast and effective workflow solution which brings your potential for productivity to full capacity. It is the ideal system for medium to large business' printing needs and is a great tool for architects, engineers and other design professionals. The Canon imagePROGRAF MFP includes a large-format scanner, printer, MFP stand, Dell computer, and a touch-screen interface for quick, intuitive operation. The large-format imaging system of the Canon imagePROGRAF MFP makes it easy to email, scan-to-copy, and file large format documents. The imagePROGRAF MFP is also a fluid system for archiving, printing design and layout proofs, posters, and distributing maps, drawings, renderings, and site or facility management plans. Canon brings you the best quality and the Canon imagePROGRAF MFP creates incredibly defined, crisp large-scale prints. With the Canon iPF750 MFP printer, you get the versatility and flexibility necessary for use in a wide variety of industries and applications, all in one captivating package.
Looking for something else? View all of our Canon Large Format Printers for sale online with FREE Shipping.
PRINTERS NOTE: While the Canon IPF 750 multi-function printer offers enhanced functionality like scanning, scan-to-copy and easy file-making on a touchscreen monitor, many people opt for the cost-effective basic ipf750. View more information on the Canon imagePROGRAF 750.
Features and Details of the Canon imagePROGRAF iPF750 MFP Plotter
The Canon imagePROGRAF iPF750 MFP plotter boasts an extremely user-friendly design. The printer was designed for general use and to be used with AEC, CAD, MCAD, ECAD, and GIS applications for producing excellent technical documents. The machine features an extremely fast scanner with maximum scanning speeds of up to 10 inches per second when scanning monochrome plain paper documents and 1.67 inches per second for color documents. The plotter design includes a unique paper path which returns prints to the front of the machine. Product features, like the ink tank and paper tray, are also located on the front of the machine, allowing for flush wall installation to save space in any business printing environment.
The Canon iPF750 MFP printer comes standard with the ability to scan to PDF, JPEG and TIFF file formats. An intuitive control panel simplifies your workflow when formatting and printing large-scale projects. The Canon iPF750 MFP Plotter provides a fast and effective system for copying, archiving and distributing maps, drawings, renderings, site and facility management plans, design and layout proofs, posters and more. The Canon iPF750 MFP printer is a versatile imaging solution with 600 dpi optical resolution. CIS scanning technology provides incredible line definition and accuracy to graphic prints, signs, and proofs. The Canon iPF750 MFP large format printer prints documents up to 41" wide (with a 40" image width) by 60". With features like dynamic image preview and a large, intuitive control panel with a touch-screen interface, one-click scanning and copying has never been easier.
Canon imagePROGRAF Printer Driver Operating System
Do you need to simplify your printing operation? Do you want to increase printing productivity? Do you want to streamline media use and move toward an ultimately cost-effective printing solution? These desires are ultimately achieved through combining a plotter with an excellent driver, which Canon has done. The Canon imagePROGRAF MFP comes with the Canon Printer Driver, aiding in running large files, color management, rotating images, scaling them, nesting, color profiling across media types, and more.
For printing from PostScript applications such as Adobe Illustrator or QuarkXpress, you'll want to use a PostScript compatible RIP package. For a list of Canon-recommended RIP packages, please consult with Canon Alliance (http://www.usa.canon.com/cusa/office/standard_display/alliance_largeformat) an Industry Market list of RIP vendors. The maximum printable length when using the Canon imagePROGRAF MFP varies depends on the application, OS, and RIP used in conjunction with your Canon imagePROGRAF MFP.
The Canon iPF760 and iPF760 MFP are the newest available large format printers from Canon. These new, upgraded machines feature the very latest in printer technology and integration solutions for businesses and individuals.
If you have any questions about why the Canon imagePROGRAF MFP is the best for your business, contact WAB Paper Supply via phone or using the WAB "chat now" function on this web page, or please see the Product PDFs for more information!
Shop Canon Plotters for all your business printing needs from WAB Paper Supply
Canon imagePROGRAf iPF750 MFP Multifunction Specs

Printer

Printing Method

Number of Nozzles

Total: 15,360
MBK: 5,120 nozzles
C, M, Y, BK: 2,560 nozzles each

Nozzle Pitch

1,200 dpi

Non-firing nozzle detection and compensation

Print Resolution (Up to)

Ink Compatibility

Ink Capacity

Ink Droplet Size

Color Set

Dye: Cyan, Magenta, Yellow,

Black
Pigment

: Matte Black

Buffer/Ram

Paper Sizes

Media Width: Cut Sheet: 8" - 36"
Roll: 10" - 36"
Media Thickness: Front Loading Manual Feed: 0.07 - 0.8mm (2.8 - 31.4mil)
Roll: 0.07 - 0.8mm (2.8 - 31.4mil)
Maximum Roll Print Length: 59 Feet (18 meters)2
Maximum Media Roll Diameter: 5.9"

Automatic Sheet Feeder

Top Loading Roll Feed: One Roll, front output
Top Loading Manual Feed: One sheet, front output
Languages: GARO (Canon Proprietary), HP-GL/2, HP RTL

Scanner

Scanner Type

Contact Image Sensor (CIS) technology

Scanning Element

Scan Accuracy: +/- 0.1%
Speed: 10.1 ips (monochrome), 1.67 ips (color)

Max. Resolutions

Standard Resolution: 600dpi
Adjustable: from 100 dpi to 9,600 dpi

Max. Document Size

Width: 41 inch document width (40 inch image width)
Length: 60 inches
Thickness: 0.012in (0.3mm)

General

OS Compatibility

Printer Driver Operating System: Windows XP/ Server 2003/ Server 2008/ Vista/ 7 (32/64bit), Macintosh OSX 10.3.9-10.6 (32 bit), OS X 10.5-10.6 (64 bit)
Standard Interface: USB 2.0 High-Speed - 10/100 Base-T/TX
Software Included: PosterArtist Lite (PC Only), Accounting Manager (PC Only), Canon Printer Driver, Digital Photo Front-Access, Printer Driver Extra Kit (Free Layout, imageRUNNER Linking Function), HDI Driver for AutoCAD3
Operating System: Windows 7 Professional
Monitor: Flat Panel Touch-Screen Display
Software Included: SmartWorks MFP