Canon imagePROGRAF iPF815 M40 44-inch Large Format MFP
Product Number:
ipf815mfp

In Stock
The Canon iPF815 MFP Has Been Discontinued
See our newer models which replace the Canon iPF815 MFP
Canon imagePROGRAF iPF830
Canon imagePROGRAF iPF830 MFP
Canon imagePROGRAF iPF840
Canon imagePROGRAF iPF840 MFP
Canon imagePROGRAF iPF850
Canon imagePROGRAF iPF850 MPF
Call 414-321-1422 to discuss the best option for your printing needs.
Canon imagePROGRAF iPF815 MFP M40 Multi-Function Plotter and Scanner.
Call 414-321-1422 or email support@wabpapersupply.com to discuss the Canon iPF line of high-speed plotter/printers. You simply won't find a better price on a new Canon iPF printer anywhere else!
We are now accepting trade-ins for Canon iPF plotters and scanners. Call us today at 414-321-1422 to learn more!
Free shipping. Free installation and training anywhere in the USA!
PRINTER'S NOTE: While the dual roll Canon iPF 815 Multi-Function Printer offers enhanced functionality like scanning, scan-to-copy and easy file-making on a touchscreen monitor, many businesses opt for the more cost-effective, single-roll iPF 815 printer. View more information on the Canon imagePROGRAF iPF815.
Canon iPF815 MFP M40 Technical Plotter and Photo Printer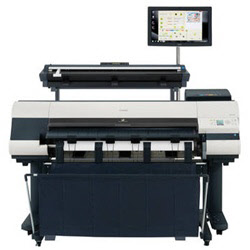 The Canon iPF 815 MFP M40 printer is a full-featured 44" large format 5-color printer. Designed as a complete Scan-to-Copy, File, Share Cloud system, the iPF 815 MFP M40 merges a large format printer, the M40 large format scanner (40"), MFP stand, computer, SmartWorks MFP Software and a large touch-screen monitor into one incredible package. We recommend this solution for professionals in CAD, Architecture, Engineering, Construction and other industries requiring the production of large technical documents in color. All Canon MFP large format printers come with a Dell touch-screen controller computer. The Dell PC runs Windows 7 Professional on this Canon printer. View our full line of Canon large format printers printers for sale online.
The Canon iPF815 MFP M40 scanner represents a huge upgrade in scan speed and scanned image quality over the competition—namely, the HP designjet. The iPF815 MFP M40 ships with an open architecture Acer PC with a 22" multi-touchscreen monitor and Windows 7 Professional. The Canon iPFM40 scanner scans up to 1200 DPI and scans 13"/second in black and white and 3"/sec in color. The M40 scanner has a single 40" wide scanning lense so scanned drawings and images are consistent across the entire width of the scan. The Canon iPFM 815 large-format scanner will also scan drawings up to 2 millimeters thick, allowing for the scanning of much more than just technical documents.
Canon iPF815 MFP M40 Printer Summary
Engineered for speed and precision, the 44" Canon imagePROGRAF iPF815 MFP printer is an ideal solution for copying, archiving and distributing complex renderings, GIS maps, as well as CAD, MCAD and ECAD drawings and other business printing documents. With exceptional line definition and accuracy, high-speed-throughput, and a large, simple-to-use touch-screen interface, the iPF815 MFP makes large format scanning/copying quick and effortless.
The Canon imagePROGRAF iPF815 MFP printer with true 600dpi optical resolution and CIS scanning technology makes for incredible line definition and printing accuracy. This Canon large format printer has room for documents up to 41" wide (40" image width). This makes it ideal for a wide variety of technical applications, as well as for fine arts and graphics uses. Images can be saved in PDF, JPEG and TIFF file formats for maximum versatility. The Canon iPF815 MFP printer was designed to provide an exceptionally versatile imaging solution at a surprisingly reasonable price point. With dynamic preview and a large, user-friendly touch-screen interface, one-click scanning and copying have never been easier.
Canon iPF815 MFP Advanced Productivity Features
The advanced features of the Canon iPF815 MFP printer enable maximum printing productivity in the most demanding business environments. Handling multiple, complex jobs in shared printer environments is now possible, thanks to the built-in 250GB hard drive. There's no stopping the show for an ink cartridge replacement, either. With the iPF 815 MFP's sub-ink tank system, you can do on-the-fly ink replacements for continuous printing. And for non-critical printing, the Economy Print Mode helps significantly lower your cost per print while still producing surprisingly high-quality documents and images.
Canon printers/plotters and supplies
For Canon printers/plotters, banner and sign printers, scanners, wide-format mfps, plotter paper rolls, or any other printing supply needs, WAB Paper Supply stands above all online stores. Our expertise in digital plotters, copiers, scanners and digital reprographic systems is well-known in the industry, and our lowest possible prices make us your best source for the hardware and supplies you need to run your business.
Canon ipf815 MFP Printer Specifications:
Printer

Canon iPF815 MFP Printer Specs

Printing Method

5-Color 44-inch Printer

Number of Nozzles

Total: 15,360
MBK: 5,120 nozzles
C, M, Y, BK: 2,560 nozzles each
Nozzle Pitch: 1,200 dpi
Non-firing nozzle detection and compensation

Print Resolution (Up to)

2,400 x 1,200 dpi (Max)

Ink Compatibility

Dye/Pigment Reactive Ink
Ink Capacity: 330ml per color (Optional 700ml)

Ink Droplet Size

4 picoliter
Color Set: Dye: Cyan, Magenta, Yellow, Black
Pigment: Matte Black

Buffer/Ram

32 GB dedicated file processing memory, 384MB RAM
Hard Drive: 160 GB

Paper Sizes

Media Width: Cut Sheet: 8" - 44"
Roll: 10" - 44"
Media Thickness: Front Loading Manual Feed: 0.07 - 0.8mm (2.8 - 31.4mil)
Roll: 0.07 - 0.8mm (2.8 - 31.4mil)
Maximum Roll Print Length: 59 Feet (18 meters)2
Maximum Media Roll Diameter: 5.9"

Automatic Sheet Feeder

Front Loading Roll Feed: One Roll, front output
Front Loading Manual Feed: One sheet, front output
Languages: GARO (Canon Proprietary), HP-GL/2, HP RTL

Scanner Type

Contact Image Sensor (CIS) technology

Scanning Element

Scan Accuracy: +/- 0.1%
Speed:
10.1 ips (monochrome)
1.67 ips (color)

Max. Resolutions

Standard Resolution: 600dpi
Adjustable from 100 dpi to 9,600 dpi

Max. Document Size

Width: 41 inch document width (40 inch image width)
Length: 60 inches
Thickness: 0.012in (0.3mm)

OS Compatibility

Printer Driver Operating System:
Windows XP/ Server 2003/ Server 2008/ Vista/ 7 (32/64bit), Macintosh OSX 10.3.9-10.6 (32 bit), OS X 10.5-10.6 (64 bit)
Standard Interface:
USB 2.0 High-Speed
10/100 Base-T/TX
Software Included:
PosterArtist Lite (PC Only), Accounting Manager (PC Only), Canon Printer Driver, Digital Photo Front-Access, Printer Driver Extra Kit (Free Layout, imageRUNNER Linking Function), HDI Driver for AutoCAD3
Computer Specifications:
Operating System:
Windows 7 Professional
Monitor:
Flat Panel Touch-Screen Display
Software Included:
SmartWorks MFP
Shop Canon Plotters for your business printing solutions from the Canon Printer experts at WAB Paper Supply.