Canon imagePROGRAF iPF8400s 44-inch Production Color Printer

In Stock
Canon iPF8400S 44" Production Color Printer
The Top-Selling Wide-Format Graphics Printer
The Canon imagePROGRAF 8400S is our best-selling wide-format plotter/printer at WAB Paper Supply. The iPF8400S is an 8-color professional production printer, unrivaled in print quality and speed among its peers. This printer was built for photographers, proofers and production artists for maximum productivity without sacrificing image quality.
The iPF8400S features a built-in 250GB hard drive, 384 MB of buffer RAM and Canon's exclusive L-COA image multiprocessor, which does the work of several processors on board a single chip.
These features combine to provide seamless printing of multiple large-volume projects simultaneously.
Manage Job Costs to the Penny with Advanced Accounting Application
Managing job costs has never been easier than with the iPF8400S's pre-loaded Accounting Manager program. Provide accurate billing and internal accounting, and keep track of high-cost projects for future budget planning.
The Accounting Manager application tracks the volume of ink (within a 15% accuracy tolerance) and media consumed per project, along with job completion time. When you input raw materials cost, Accounting Manager will automatically calculate the cost of goods consumed per project. Users may also choose to include a "variable cost" which will be added to print cost total.
These figures are easily exported into CSV format for Microsoft Excel on a per-project basis.
8-Color Pigment Printing for Professional Output
The Canon imagePROGRAF 84002 is compatible with Canon's archival-quality LUCIA EX 8-color pigment array. LUCIA EX pigment cartridges are available in either standard 330ml volume per color, or optional 700ml volume per color to reduce downtime due to low ink.
LUCIA EX pigment-based inks provide museum-quality durability and vibrancy along with the glossiness of dye-based inks.
The 8-color system combines standard CMY print pigments with Photo Cyan and Photo Magenta, Black and Matte Black as well as a mid-tone Gray. LUCIA EX pigment ink produces the darkest blacks available in a large-format production printer.
Undeniable Quality and Cost Controls from our Most Popular Production Printer
The iPF8400S is the indisputable workhorse printer for graphic designers and production printmakers worldwide. This printer will streamline workflow while simplifying project cost management, auditing and budgeting.
Take control of print costs while delivering stunning print image quality.
We are now accepting trade-ins for Canon IPF printers - Call us today 414-321-1422!
Canon IPF 8400s Plotter: Unmatched Speed and Productivity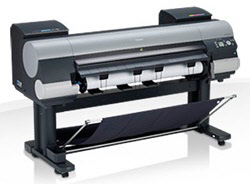 A versatile wide-format business printing machine, the 44" Canon imagePROGRAF iPF8400S printer delivers speed and productivity to printing professionals that desire outstanding color quality from a fast printer. The Canon iPF8400s printer's 8-color pigment ink system prints long-lasting images onto almost any rollable media from canvas, vinyl, and polypropylene banner to bond paper, coated bond, and high gloss photo paper. The Canon iPF8300s graphics printer comes with built-in color calibration and allows users to print full bleed edge to edge prints cut directly off the roll on the plotter. The Canon iPF8400 series printer has proven to be an excellent output device for map printing, poster printing, signage printing, photo printing, and canvas printing.
The Canon iPF8400s plotter is ideal for those who need quality large format output and maximum business printing productivity. Built for the photography, proofing and production markets, the Canon iPF8300S plotter delivers high-quality imaging while increasing overall productivity. Equipped with an 8-Color LUCIA EX ink set, 160GB hard drive, built-in calibration and 44" borderless printing, the Canon iPF8300S plotter is an excellent solution for portraits, advertisements, retail signage and contract proofs.
The color gamut available from the Canon iPF8400s printer is huge! The printer plots smooth gradations have outstanding scratch resistance and minimized color shifts. Canon created a workhorse production 8 color machine in the iPF8300s.
Achieve maximum productivity with large 330ml or 700ml ink tanks and a unique sub-ink tank system for replacing ink on-the-fly without stopping the printer. And with a 160GB hard drive, handling multiple complex business printing jobs is incredibly simple in network shared printer environments. Users can control costs per print with Fast / Economy printing modes that reduce plotter ink consumption.
Maintenance supplies for the Canon imagePROGRAF 8300s:
MC-16 maintenance cartridge, CT-06 cutter, PF-05 printhead.
Ink tank supplies for the Canon imagePROGRAF 8400s:
330 ml: PFI-304BK, PFI-304C, PFI-304GY, PFI-304M, PFI-304Y, PFI-304MBK, PFI-304PC, PFI-304PM
700 ml: PFI-704BK, PFI-704C, PFI-704GY, PFI-704M, PFI-704Y, PFI-704MBK, PFI-704PC, PFI-704PM
Contact the wide-format printer specialists at WAB Paper Supply for a quote to buy, rent or lease a new Canon iPF8400S or shop all Canon Plotters online at WAB Paper Supply Company.
Canon iPF8400s Plotter Specs:
Printer Type

8-Color 44-inch Printer

Number of Nozzles

Total: 30,720
C, PC, PM, GY: 5,120 nozzles each
BK, MBK, Y, M: 2,560 nozzles each

Nozzle Pitch

1,200 dpi

Nozzle Recovery System

Non-firing nozzle detection and compensation

Print Resolution (Up to)

Color:2,400 x 1,200 dpi (Max)

OS Compatibility

Windows XP/Server 2003/Server 2008/Vista/7 (32/64bit), Macintosh OSX 10.3.9-10.6 (32/64bit)1

Standard Interfaces

USB 2.0 High-Speed
10/100/1000 Base-T/TX

Ink Compatibility

LUCIA EX ink (Pigment-based)

Ink Droplet Size

4 picoliter

Ink Capacity

330ml per color (Optional 700ml)

Color Set

Cyan, Photo Cyan, Magenta, Photo Magenta, Yellow, Black, Matte Black, Gray

Buffer Ram

384 MB

Hard Drive

160GB

Media Width

Cut Sheet: 8" - 44"

Roll: 10" - 44"

Media Thickness

Front Loading Manual Feed: 0.07 - 0.8mm (2.8 - 31.4mil)

Roll: 0.07 - 0.8mm (2.8 - 31.4mil)

Maximum Roll Print Length

59 Feet (18 meters)2

Maximum Media Roll Diameter

5.9" (150mm)

Borderless Printing Width

515 mm (JIS B2), 1, 030 mm (JIS B0), 594 mm (ISO A1), 841 mm (ISO A0), 10", 14", 17", 24", 36", 42", 44"

Paper Feed Method

Roll Feed: One Roll, front output

Front Loading Manual Feed: One sheet, front output

Languages

GARO (Canon Proprietary)

Noise Level Approx

Operation: 50 dB (A) or less

Acoustic Power: 6.8 Bels

Physical Dimensions

45" (H) x 74.5" (W) x 38.4" (D)

Weight

Approximately 316lbs. with stand

Power Source

AC-100-120V (50-60Hz)

Power Consumption

Maximum: 190W or less

Standby: 6W or less

Power Off: 1W or less (Compliant with Executive Order)

Operating Environment

Temperature: 59°-86° F (15°-30° C)

Relative Humidity - 10-80% (No Condensation)

User-replaceable items

Print Head (PF-05)

Maintenance Cartridge (MC-08)

Durable Rotary Media Cutter (CT-06)

Ink Tanks (PFI-304, PFI-704)

Software Included

Canon Printer Driver, PosterArtist Lite, Accounting Manager, Print Plug-in for Adobe Photoshop, Print Plug-in for Digital Photo Professional, Print Plug-in for Microsoft Office, Digital Photo Front-Access, Printer Driver Extra Kit (Free Layout, imageRUNNER Linking Function)