Colortrac SmartLF Scan! 24" Scanner
Product Number:
SmartLF-Scan!-24

In Stock
Wide Format Scanner with Press & Go Functionality
The 24" SmartLF Scan! portable scanner is a self-contained color scanner for quick and easy on-the-go operation. SmartLF Scan! series mobile scanners are perfect for field work, including interior design firms, construction trailers, county or local government clerks and landscape design.
Change the Way You Work with Portable Scanning
All you need is power. Plug it in and go. There is no software and no learning curve. It works just like a digital camera. When you're out in the field, you can scan a document to internal memory. When you need to scan documents on-the-go, the Colortrac SmartLF Scan! 24" portable scanner is ready on the spot!

Business plans are constantly changing. Customers are demanding and you need to be able to keep up. The Colortrac SmartLF Scan! 24" portable scanner allows you to keep moving and find simplicity in high-leverage environments. You have an edge your competitors can't match.
SmartLF Scan! Mobile Carrying Case
The SmartLF Scan! portable scanner includes a heavy duty case with handles and casters for easy maneuverability. Bringing a high quality wide format scanner on site has never been so easy. There are no abundance of kitschy features or unnecessary frills. This portable scanner is practical, built for quick use at a moment's notice.
The SmartLF Scan! 24" portable scanner is the most simple mobile large format scanner ever offered to the marketplace. High quality scanning is right at your fingertips no matter where you are.
Operation Modes
Scan to Internal Flash Memory
No PC or peripheral equipment is required for large format scanning with the SmartLF Scan! 24" mobile color scanner. It is the only large format scanner that doesn't require scanning software.
6 GB of internal flash memory will hold up to 8 color scans at a 20 MB per second transfer speed. Scans to internal memory are full 8 bit uncompressed grayscale or full 24 bit uncompressed color only. Scanned files may be saved as TIFF or compressed PDF.
Once scanned to internal memory, the saved file may be transferred to USB storage or to a network vid the Ethernet interface.
Scan to External USB Flash Memory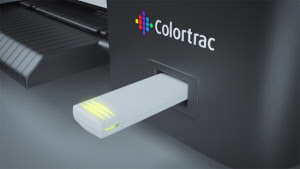 The SmartLF Scan! 24" portable scanner supports USB sticks with up to 8 GB of storage space. You can scan directly to the USB stick or move scans from internal storage to your USB stick to make them fully portable.
Plug the flash drive into your PC or hand held device to email it or transfer to the cloud for editing in Windows-based software. File types include compressed PDF or TIFF.
Scan to Connected PC Network
The SmartLF Scan! 24" mobile scanner comes with an Ethernet port on the back of the unit and an 8 foot Ethernet cable to allow you to connect to the network and store scanned document files easily on your local network.
You may scan directly to the network at a rate of 35 MB per second, or transfer files from internal memory to the network.
Specifications

In-the-box
Scan! large format scanner
Tough wheeled carry case
Mains external power supply
Calibration target
RJ45 Ethernet cable
Scan System
Three modes of operation. TIFF and PDF files are generated inside the scanner. They can be:

Stored in the scanner for transfer to a PC later
Stored directly on a USB stick
Transferred via Ethernet directly to network or PC

Scan software
Scan formats are viewable using native Windows Apps. A small Windows program is supplied to receive live or stored scan files from the scanner - not required for scan to USB stick.
Optical Resolution
600 dpi
DocLogic
Intelligent image optimization system automatically sets dpi of document or photos according to physical size to maximize image quality and reduce file size
Max Scan Width
24" (609.6 mm)
Max Image Length
50" (1270mm)
Min Media Width / Thickness
6.2" (160mm) / 0.003" (0.07 mm)
Max Media Width / Thickness
26" (660mm) / 0.02" (0.5 mm)
Paper sizing (image sizes)
ISO DIN / ARCH / ANSI / automatic width and length
Internal memory
approx. 6 GB or 8 scans
Scan Accuracy
0.2 % +/-1 pixel
SingleSensor digital imaging technology
SingleSensor is a full width straight-line contact image sensor (US patent #8,922,849) Bi-directional long-life LED light system for optimum object illumination and instant-on scanning capability
Operation modes
Scan to internal memory / scan to USB stick (not supplied) / scan to networked computer
Color space
24-bit sRGB and grayscale (plus bitonal using the pc connection)
Scan speeds (maximum at 200 dpi)
4.5 inch/sec (114.3mm/sec) grayscale and 3 in/sec (76.2mm/sec) for color
Paper Path
Centered, face-up, front entry
Data interfaces
Front: USB2 socket for scan to USB memory stick.
Rear: Ethernet RJ45 GBit for scan to computer over network
Power Requirements
External power supply Input: 100~240VAC, 50-60Hz, auto-sensing +/-10%, Output: 3.42A at 19V
Scanner power consumption: 19.4 W (scanning), 10.2W (standby), 0.05W (sleep). Energy Star qualified
Environment
Operating temperature 10oC – 35oC, Relative Humidity 10% – 90% (non-condensing)
Weight & Dimensions (WxHxD)
Scanner only: 11.5 lbs (5.2 kg) / 34.3 x 6.3 x 5 inches (870 x 160 x 126 mm)
Scanner incl. case: 22.3 lbs (10.1 kg) / 38.6 x 10.4 x 8.2 inches (980 x 265 x 208 mm)
Host Platform
Windows 10, Windows 8, Windows 7, 32-bit and 64-bit architectures
Certifications
ENERGY STAR qualified, CB, CE, CCC, FCC, UL, RoHS compliant
RELATED PRODUCTS