Colortrac SmartLF Scan! 36" Scanner
Product Number:
SmartLF-Scan!-36

In Stock
Color Scanner for High-Quality On-the-Fly Scans
The Colortrac SmartLF Scan! 36" portable scanner gives you an unprecedented ability to scan and save large format documents on-the-go. Never before has a product offered such a unique opportunity to improve file sharing and collaboration for work projects. The Colortrac SmartLF Scan! mobile scanner is a low-profile, affordable solution for companies looking for quick and efficient scanning capabilities in a mobile environment.
Portable Large Format Scanning
In the past, large format scanning has been left to the likes of large MFP units and industrial sized, thousand pound scanners with myriad extra functions. Their strength is completing a large variety of different kinds of scanning applications for large runs of complex documents.

The Colortrac SmartLF Scan! series scanners are pared down to very simple functionality to make for the industry's best portable scanner on the market. There are no frills or gimmicks with the SmartLF Scan! series scanners. You need an electronic record of a physical document, and the portable SmartLF Scan! 36" scanner scans it into a TIFF or uncompressed PDF for your records.
Mobile Document Scanning Anywhere, Anytime

All you need is power. The SmartLF Scan! 36" portable scanner does the rest. No hassle. No software. No training necessary. Just press and go. High-quality scans.
The SmartLF Scan! mobile scanner comes with a heavy-duty carrying case with a handle and casters for easy maneuvering in airports, subway stations or anywhere else on the jobsite.
The 36" model weighs a strikingly light 15.4 lbs (The Colortrac SmartLF Scan! 24" scanner weights 11.5 lbs), easily moved to and from its case, and slender enough to fit into small spaces in the office or on the jobsite. The SmartLF Scan! series is the industry's finest selection of portable scanners.
Colortrac SmartLF Scan! Series Operation Modes
Scan to Internal Flash Memory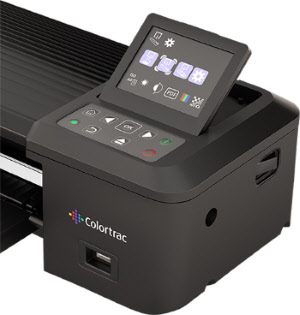 6 GB of internal flash memory means you get up to 8 document scans on the SmartLF Scan! portable scanner on the spot. No special setup is necessary. This is the only large format printer you'll find requiring no scanning software. Just plug it in and go.
Color scans are transferred to memory at a speed of 20 MB per second. Scans to internal memory are full 24-bit uncompressed color or full 8-bit uncompressed grayscale.
Internally stored scans (PDF's and TIFF's) may be transferred from internal storage to an external USB stick or to your network via Ethernet connectivity.
Scan to External USB Flash Memory
Plugin a USB flash drive with up to 8 GB of storage and scan straight to it for complete portability. Your flash drive can be plugged into a PC or handheld device to transfer it to the cloud, edit in Windows software, or email your scans. File types include TIFF and compressed PDF.
Scan to Connected PC Network
Connect the provided Ethernet cord to your company network to store scanned documents easily in a shared internal folder. Scans transfer to the network at a rate of 35 MB per second, allowing you to scan and upload documents for collaboration quickly and efficiently.
Specifications

In-the-box
Scan! large format scanner
Tough wheeled carry case
Mains external power supply
Calibration target
RJ45 Ethernet cable
Scan System
Three modes of operation. TIFF and PDF files are generated inside the scanner. They can be:

Stored in the scanner for transfer to a PC later
Stored directly on a USB stick
Transferred via Ethernet directly to network or PC

Scan software
Scan formats are viewable using native Windows Apps. A small Windows program is supplied to receive live or stored scan files from the scanner - not required for scan to USB stick.
Optical Resolution
600 dpi
DocLogic
Intelligent image optimization system automatically sets dpi of document or photos according to physical size to maximize image quality and reduce file size
Max Scan Width
36" (914.4 mm)
Max Image Length
50" (1270mm)
Min Media Width / Thickness
6" (150 mm) / 0.003" (0.07 mm)
Max Media Width / Thickness
38" (965 mm) / 0.02" (0.5 mm)
Paper sizing (image sizes)
ISO DIN / ARCH / ANSI / automatic width and length
Internal memory
approx. 6 GB or 8 scans
Scan Accuracy
0.2 % +/-1 pixel
SingleSensor digital imaging technology
SingleSensor is a full width straight-line contact image sensor (US patent #8,922,849) Bi-directional long-life LED light system for optimum object illumination and instant-on scanning capability
Operation modes
Scan to internal memory / scan to USB stick (not supplied) / scan to networked computer
Color space
24-bit sRGB and grayscale (plus bitonal using the pc connection)
Scan speeds (maximum at 200 dpi)
4.5 inch/sec (114.3mm/sec) grayscale and 3 in/sec (76.2mm/sec) for color
Paper Path
Centered, face-up, front entry
Data interfaces
Front: USB2 socket for scan to USB memory stick.
Rear: Ethernet RJ45 GBit for scan to computer over network
Power Requirements
External power supply Input: 100~240VAC, 50-60Hz, auto-sensing +/-10%, Output: 3.42A at 19V
Scanner power consumption: 19.4 W (scanning), 10.2W (standby), 0.05W (sleep). Energy Star qualified
Environment
Operating temperature 10oC – 35oC, Relative Humidity 10% – 90% (non-condensing)
Weight & Dimensions (WxHxD)
Scanner only 15.4 lbs (7 kg) / 46.3 x 6.3 x 5 inches (1175 x 160 x 126 mm)
Scanner incl. case: 30.9 lbs (14 kg) / 50.4 x 10.4 x 8.2 inches (1280 x 265 x 208 mm)
Host Platform
Windows 10, Windows 8, Windows 7, 32-bit and 64-bit architectures
Certifications
ENERGY STAR qualified, CB, CE, CCC, FCC, UL, RoHS compliant
RELATED PRODUCTS